A Different Side of Things
February 6, 2017
"Call me if you need anything."
This was the last thing my dad said to me before he walked out the door, leaving my mom, my brother and me.
My parents have been going to therapy for longer than I can remember. I always sat in the therapist's lobby with my older brother Carson for an hour and a half while they met with someone to discuss their issues. On the drive home, it would be quiet. It's like we were all too scared to ask.
I didn't really understand what was going on, but I know that my brother understood. I never knew what happened behind those closed doors, but I always felt that Carson did.
I don't remember how long they had been going to therapy, but to me it felt like forever. I remember my dad sleeping on the futon in the back room, next to the bedroom my mom slept in-- alone. I wasn't sure if she wouldn't let him back in or if he just needed to spend the nights alone.
After almost 20 years of marriage, I didn't understand either way.
One early Sunday morning in early October a few years back, the whole family was awake. My family isn't home very often with sports or events involving Carson and me, so we usually eat out. At the time, McDonald's did not have all-day breakfast. It was about 10:30 when we all woke up and we were already hungry. My dad had left to go run some errands around 10:45 so my mom asked him to pick up some McDonald's breakfast when he came home. Breakfast closed at 11:30. When he came home, it was 11:45, which made my mother assume that he didn't get food.
"Where have you been, we're a little hungry over here!" my mom shouted as my dad walked in the door, hands full with groceries and warm, McDonald's.
"I'm so sorry, shopping took longer than expected, here's the-"
"No! I can't believe you made us wait!!" she was furious as she took the bag.
It was the little things that mattered to her. This apology wasn't enough for my mom. My dad was done trying so hard to make things work, he decided it would be best if he left. He tried to explain to Carson and me that it was okay and we were going to be fine, but it was never the same.
My dad moved out of our cute little ranch house in the middle of Mundelein and into a small apartment in a bad part of town. We helped him move into his apartment and get settled in. When he told us that was all he needed, he hugged us goodbye. Again, he said it was going to be okay and that he hoped that things would work itself out. We said the same and left.
My dad runs half-marathons. About a month or so after he moved out, he was running another one. My mom and I made a poster for him and left to go to the race where we would meet him at the finish line. We finally got to the race and we couldn't find him anywhere. We called him to see if he was sitting in his car or something, but he had already left. We were too late and didn't get to see him finish. We got in the car and started heading home, both of us an emotional wreck. We needed him back in the house and it was hard not having him. When we got back home, my dad had been waiting at our house with his belongings and asked if he could come back.
About a month and a half later, my dad moved back in and things have been normal ever since. This affected me deeply. I now understand what it's like for single parents and to be a child of a single parent. I look at it differently now. It is not easy to be a parent, and raising two teens on their own is even more of a challenge. I've realized that over the years, so I have been more understanding and patient. This has also made me grateful for my dad since he came back and has stuck around ever since, it made me see a different side of things.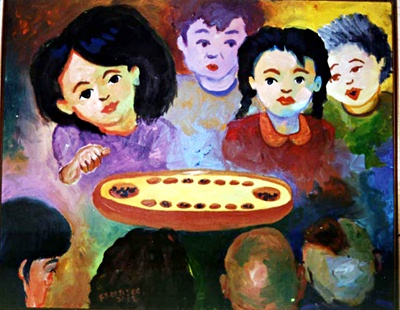 © Fransisca A., Surabaya, Indonesia