Moving
November 21, 2016
I looked around the room that would no longer be mine. Once filled with everything but now contained nothing except for the deflated air mattress I had slept on the night before and my small backpack full of various things for the car ride. I looked around one last time at the memory-filled room and left. I closed the door and slowly descended down the stairs. The carpeted stairs I had run up and down on so many times without a thought. I now could not stop thinking about those stairs that I would soon be leaving behind for good. At the bottom of the stairs was the tiled hallway that was used for races between my young brothers and small, makeshift soccer tournaments between my family members. I walked along those cold gray tiles trying to remember all the fun things that happened in that small hallway. At the end of the hallway was the front door to our home. The door where different holiday decorations had once been hung by my mom but now was just a plain white door. I knew that once I walked through that door my life would change.

My family piled into the old gray minivan parked outside of the empty house. This messy gray van would take them on an adventure of some sort. To a new life. To a fresh start. To my father that was already waiting for us to arrive at our new house. With everyone in the van, we pulled out of the driveway, said goodbye to the empty home and left. As we drove away I finally shed a single tear. That single tear slowly rolled down my face until coming to a stop on my cheek before falling onto my black shirt that I had gotten from playing basketball at my high school. My mother saw that single tear fall down my face and said that everything was going to be ok. But she also said that it was also ok for me to feel sad. I looked up and saw that there were also tears in my mother's eyes and knew that the same thoughts and feelings that were running through my mind, were also being thought and felt by my caring and understanding mother.

The van drove past the sights my family had grown familiar with in their time living there. Past the first restaurant we ate at when they moved to Albuquerque. Past the high school I had attended and all of my friends, teammates, and teachers hidden in that school. Past the houses of all the friends we were leaving behind. Soon familiar sights turned into a long bumpy road surrounded by dirt. Dirt and rocks everywhere. As far as I could see it was dirt that bordered the long road that seemed to go on forever and lead to nowhere.

The long drive ahead gave me time to think about the previous day. The day before had been emotionally draining and almost physically hurt. Many tears had almost escaped the confines of my eyes and rolled down my face as I said goodbye to many people I would miss. It hurt to know that some of the people I was giving hugs and saying goodbye to wouldn't care that she was leaving and would just continue on the next day as though I were never even a part of their lives. I was brought back to reality when the mom asked what treat I wanted at an old beat-up gas station in the middle of nowhere that we decided to stop at.

After we filled the gray van up with gas, we continued our journey to a new world. I looked out the window at the rock-filled landscape. There were elegant and beautiful rock formations in varying colors like red and orange as my family neared the state line to come into Arizona. The number of trees grew as the gray van drew closer to the border of the state we had come from and the state we would soon be a part of.

Finally after what seemed like forever, we saw the sign that welcomed travelers into Arizona. We were actually in Arizona. This is actually happening I thought. There is no turning back now. The whole family was both excited and anxious now. We turned on some music that we could sing along to. The whole family was singing all the words because we always listen to music on long car rides. However, it wasn't the same to me. I was singing the songs but my mind was in a whole other world. I had thoughts running through her head. What would my new school be like? Will it be easy to make new friends? Will this be easier than the last time I had to start over? After a few minutes of running these ideas through my head, I put all the thoughts aside and just sang the familiar songs with my mom and little brothers.

We saw green signs with vivid white letters that showed us that we were getting closer to Phoenix. The closer we got, the more excited we became. By the time we were within a few miles of our new house everyone in the van just wanted to get out. It was like we were going to explode. My mother entered the gate code to get into the neighborhood. The kids looked at every house, anxiously wondering which one was now ours. Finally we saw our father and our dog standing outside of a house. The van pulled into the driveway. We got out and gave my dad a big group hug. My father opened the door and at that moment my new life began.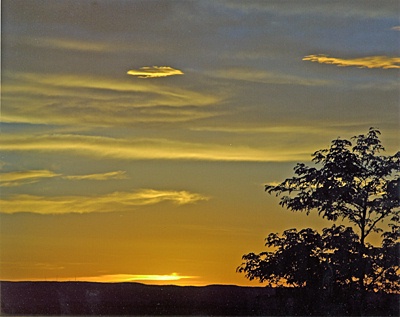 © Elizabeth B., Wichita Falls, TX