Crazy at the Coast
November 18, 2016
Did you know that it would take you almost 11 hours to drive along all 650+ miles of Florida's beaches? Florida has many beaches and in 2015, my family and I took a trip to Panama City, Florida. From sunburns and manatees to ice cream and crab legs, it was an unforgettable trip.

We left early on a Wednesday morning. We were packing our luggage into our car and were almost ready to hit the road when we had our first dilemma.

"Uh, I don't think this is all going to fit," my dad said, with worry in his voice, hidden behind what was already smashed into the tiny trunk of our car.

"Put that seat down then," my mom said. My brother, Davis, who had opted to sit in the back, set down one of the seats in the back. We made everything fit, and to no one's surprise, Davis was smashed into the back corner of our car. He was no longer satisfied with sitting in the back corner. After lots of arguing over who would sit in the back, we compromised and decided that we three kids would swap out every now and then. We got off to a great start. Everyone had their devices with Netflix playing and earbuds in their ears. We wasted a bunch of data,
but as long as it kept everyone from arguing, my parents were willing to pay the price! We hadn't gotten very far, and everyone was already asking for snacks.

"Let's get along a little bit before we tear into the food," my dad said, laughing. A couple hours in, we made our first stop to stretch our legs and get some gas.

"Ok, whatever, I guess yall can have something to eat now," my dad said, "But just one thing!" My brothers and I, along with my parents, tore into our bucket of little debbie snacks. We got back on the road, and before long, it was time for lunch. We stopped at a Wendy's to grab a quick something, because we were eager to get to the beach. After we ate, we were once again back on the road. As we approached Panama City, the smell of the beach filled the air.

"I see the water!" my younger brother, Sam, yelled. Excitement filled the car as we drove up to our condo. We checked in, and then grabbed a rolling cart to transport our luggage to our room.

"Room 729," the desk clerk said. We walked over to the elevator, pressed the up button, and then pressed the button for the 7th floor. We walked along the balcony hallway to our room.

"727, 728, 729!" Sam shouted as we came upon where we would be staying for the next 4 days. We pressed in the code that the desk clerk had given us in order to open the door to our room. I pushed through the rest of my family because I wanted to put it in.

"Pound," my mom said. I just looked at her.

"What?" I replied with a confused look on my face.

"Pound!" my mom said again.

"What in the world? What's that?" I asked laughing.

"Oh my gosh... Hashtag!" my mom said, "Kids these days don't even know what pound means." I pushed the pound on the keypad on the door and then proceeded to put in all the other numbers as my mom called them out.

"6," my mom said, "That's it! Open the door!" my mom said excitedly. I opened the door. My brothers and I dropped our luggage at the door and immediately ran to the balcony window.

"Look at the view!" Davis said, "We can see a waterpark!"
"That's Big Kahuna," my mom said, "We would go, but tickets are really expensive, and we have waterparks at home," We continued to run to all of the bedrooms and look at all the different views we had of the beach. As we were taking our luggage to our rooms, Davis yelled,

"It's a green flag! Let's go to the beach!" It was only about 4:30, so we decided that we would check out the beach and go to the pool for a while before we got ready for supper. In the middle of all of this, we realized that our condo didn't have any toilet paper in it. We would have to go get some later. We put on our swimsuits, lathered up in sunscreen, grabbed our pool noodles, boogie boards, and beach chairs, and left. As we approached the beach, we could hear children screaming and waves crashing. We left our shoes on the boardwalk and walked across the hot, white sand to the edge of the water. We sat down our beach chairs, and walked to the water. Sam and Davis each grabbed one of our two boogie boards and ran into the water, belly flopping onto the boogie boards when they got several feet out. My parents and I, on the other hand, approached the water a little more slowly. We walked to our ankles, and then to our waist, and then to our shoulders. The water was as clear as a window. Even at shoulder deep water, I could still see my feet. I am paranoid about sharks, so if I can't see my feet, I'm too deep! We splashed around in the water, and I taught my brothers and my dad how to ride the boogie boards, while my mom sat in one of our beach chairs in the sand. Before long, the time slipped away from us.

"If yall want to have time to jump in the pool real quick then we need to go now!" my mom said as she looked at the time on her phone. We agreed that we have plenty of time to come back to the beach throughout the week, so we gathered our things and headed back to the boardwalk to get our shoes and wash the sand off of us. When we got to the pool, we set our stuff on a chair and jumped in the pool. The cold, blue water was just as clear as the ocean was. We played in the water for a while and before we knew it, it was time for us to go back up to our room and get ready to go eat supper. When we got in the elevator, my mom said,

"Yall need to take showers before we go, but y'all are going to have to take turns. When you get done, Sam," he smiled, "put your towel back in the bathroom so the next person can use it because if yall all use a different towel, then we won't have any clean ones for the beach tomorrow,"

"I call first in our bathroom!" Davis yelled

"You can't call anything!" I said in disagreement, "It's the first person to get there!"

"Whatever," Davis replied, "But I'm going to be the first person there anyway so what does it matter?" The elevator reached the 7th floor and we walked to room 729. We put in the code and as soon as the door opened, I dropped what I was carrying and ran to the bathroom. I had to get there first, and of course I did. After we had all taken showers and changed clothes, we were ready to head to supper. We decided on The Crab Trap. After we ate, we made a trip to Walmart to get some toilet paper and some other foods like refrigerated foods that we couldn't bring from home. We got back to the room and watched TV. After that, we went to bed, awaiting the exciting days ahead.

When we woke up the next morning, we were ready to hit the beach for our first full day. Everyone was up early, except me. Sam slept in the room with me. It had two twin beds in it. I had told him that he better not wake me up early! Thankfully, he did as I had asked, but after a while, he wanted to go to the beach and not wait on me, so he came and woke me up. I shoved some waffles in my mouth and then lathered in sunscreen and headed out the door. It was crowded with all of the resort owned beach chairs. We didn't rent one of those because we brought our own, so we had to sit on the very back row. We played at the beach for a while before my mom realized that she was extremely sunburnt. She was red as a cherry and burning all over. My dad and brothers went to the pool while my mom went back up to the room to get out of the sun. We went back up to our room and made sandwiches for lunch. We rested and reapplied sunscreen and then went back down to the beach for a while. Everyone except Mom. She was so sunburnt that she couldn't. After while, we came back up to the room to get cleaned up for supper. That night, we chose Bayou Bill's. We pulled up at the restaurant and noticed a glass blower had a booth set up where he was making glass creations. After we ate, we came back outside and watched him make some creations for other customers. I decided that I wanted a dolphin. The man asked me what color I wanted and things like that. I got a small royal blue and turquoise marbled dolphin. He took a stick of clear glass and several sticks of different shades of blue and then melted it down to a putty like texture with his blowtorch. Then, he touched some of the blue shades to the clear to create the marbled look. He pulled the fins and mouth into shape with some pliers and before I knew it, It was a perfect dolphin. It was only about 3 inches long, but I liked it. He put it in a paper bag because it was still hot, but he said that after thirty minutes or so it would be cool enough to touch and hold. My mom was extremely bad sunburnt, so while we were watching the glassblower, my mom had been looking for solutions. She had read that you could soak some washcloths in some Earl Grey tea and then let the washcloths sit on your sunburn to take away the burn, so we went looking for some Earl Grey tea bags. We looked all over town, and we finally found some and took them back to the condo with us. When we got back, I took my dolphin out of the bag. The dolphin was warm and smooth, and the colors had darkened a tad, but I still loved it. I set it on the table beside my bed before we decided to have a late night swim. My brothers and my dad went back down to the pool for a little bit while my mom let earl grey tea sit on her sunburns. After we swam, we decided that we wanted some ice cream. We didn't have any in the room, so we decided to just jump in the car and run to sonic. My dad already had the keys with him, so walked out to our car and drove to sonic. We decided what kind of milkshake we wanted and pushed the button to order. We waited, but nobody answered. We waited some more, but still. No answer. We ditched Sonic and went to Chick-fil-a. We got our milkshakes and went back to the room. We went to sleep, ready for another day.
On the third morning, Davis and my dad woke up early and went down to the beach early to set up our stuff, so we could get the front row. When I woke up, they were already back. I ate some cereal and then put on sunscreen. We again went down to the beach. We played in the water and sand. Until suddenly,
"Get out of the water! Kids! Get out of the water!" a lady yelled. She helped me, my brother, and some others back to shore. Everybody was standing on the beach except for two men. They were underwater trying to figure out what it was. Turns out, it was just a manatee swimming super close to shore, but it sure had everyone's hearts racing! Once we were able to get back in the water, we splashed around in the water and played in the sand for a while. We went back to the pool and ended up getting luch at one of the small places beside the pool of our resort. We swam some more,and then headed back up to our room to get ready for supper. That night, we left earlier because we had made plans to go to a strip mall called Pier Park, and we wanted to get there before it got too dark. We ate at Pompano Joe's. It was really crowded, but we finally finished eating and decided to shop around a little. We went to places like As Seen on TV, Tumbler, Nike, and Under Armour stores. In the As Seen on TV store, we played with the demo selfie sticks. In middle of it all, it stared raining. Since this was an outdoor mall, we had to run into the closest store to stay dry, and wouldn't you know we ended up in a Marble Slab. It was extremely crowded in there becuase everybody was trying to get out of the rain, but when the rain stopped and people started clearling out, we decided that we might as well get some ice cream while we were there. I got a smores combination that was really good. We finally went back to our car and drove back to the condo. We watched TV and wasted some time before going to bed. Our second full day had come to an end.

The next morning, my dad and brother went down and set up our stuff early again. We went to the pool first this day because the rain the night before had brought in some rough waves and coolor temperatures. When we finished at the pool , we went back up to our room and ate lunch, before going back down to the beach. We played at the beach for the rest of the day before going up to get ready for supper. We had decided that we would swim at night again, so we didn't take showers. We went to race go-carts after that. I won, of course. We looked around in some souvuionur shops and even saw the Ripley's believe it or not upside down house to kill some time. Then we picked up some Chick-fil-A to take back to our room. Once we got back to our room, we decided that we would spend our last night on the beach. We took our food down to the beach to eat and play. We sat on the beach watched the sun set. It was just as beautiful as pictures show it to be. We stopped back by the pool and then went back to our room to pack. We were sad to be leaving the next morning, but glad for the time we had there. It was a great trip.

The next morning, we woke up bright and early to get back on the road. We noticed that the light was on at Krispy Creme, so we stopped and got some donuts for breackfast. Before we knew it, we had stopped for lunch, and not long after that, it seemed, we were home. We brought our stuff inside and took it to our bedrooms. I made the mistake of letting Sam bring my glass dolphin inside. I looked over and I was on the counter broken.
"What did you do, Sam?!!" I screamed.

"I wanted to drop it to see if it would break," he responded. Angry, I said,

"You idiot!" I yelled back,"Why on Earth would you drop something made of glass just to see if it would break?!" He shrugged his shoulders, and I rolled by eyes. Lucily, he had dropped it while it was in the paper bag, so only a tail fin broke off. We settled back in at home and got back to the real world. That was a trip that I'll never forget.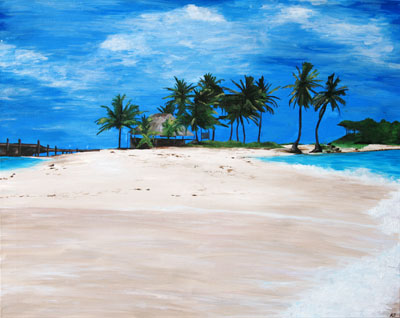 © Karen S., Norwalk, CT