New York City
November 17, 2016
Huge building, thousands of people, and decorations everywhere were the only thing on my mind at the moment. It was finally the day we had been counting down to arrive for months. My family and I would be traveling to New York City for Thanksgiving week and The Macy's Thanksgiving Day Parade. We woke up very early Saturday morning to get on the plane to Charlotte, North Carolina, and from there, we would get on a second plane to New York. The airport was crowded, as expected, because it was a holiday week. We could not wait to start our fun filled week full of adventures.

Our family finally arrived to the hotel we were staying at in New York, and of course, us being big ole miss fans, we stayed there for a while to watch the Ole Miss vs. Arkansas game. Once the game was over, we immediately started sightseeing. I had always heard about the beautiful scenery in New York, but I was in awe seeing it in person. The hard part was trying not to get lost because we definitely had no clue what we were doing or where we were going. If anyone didn't know Booneville, Mississippi, and New York City are two completely different places. New York city is big buildings, bumping someone whenever they walk, and the smell of food trucks filled the air. While, Booneville is where everybody knows everybody, and another person talks to someone if someone sees them. Therefore, we were overwhelmed with the crowd of people, but we were amazed at the same time. We went up to ask a woman that looked like she knew what she was doing, because we sure didn't know, if she had a recommendation on a place to get a quick bite to eat. Her response was, "Only if you ask me that one more time." We looked at her kinda funny after that, but then we realized she said it because she loved our southern accents. By the time we had eaten and been a little lost, it was nighttime, and we were going to The Top of the Rock at the Rockefeller Center. What felt like thousands of stairs and a couple of elevators later, we finally made it to the top, and it certainly was worth the walk. I could see out over the whole city. The view from up there was jaw dropping! There were no words to describe it because nothing would do it enough justice. I wanted to sing the song "On top of the World" while I was up there because that's what it felt like. However, my mom wouldn't know because she spent most of her night in the bathroom because her first New York supper did not agree with her belly. The lights and decorations lit the the street and the stars lit up the sky. Breathtaking experience would be an understatement. My family and I had finally had enough the first day, and it was time to go to sleep. Getting sleep at night was difficult because all night long I could still hear people yelling and car horns honking. However, this was nothing unexpected because New York City is known as "the city that never sleeps".

The next day, we were ready for our first full day in New York. We took a tour bus around the city and viewed Central Park. Our tour guide told us the famous movies that had been filmed there, and just some of the famous people that had been spotted there. Later on in the day, we got on a ferry and went out to The Statue Of Liberty. Which I was very excited about because I had only seen it in movies and pictures. The Statue was everything that I would have imagined it would be and more. As people get up closer to Lady Liberty, it looks like it is swaying back and forth. The statue was surrounded by tourist taking photos. That night, we went to see The Rockettes at Radio City Music Hall, and I'm not going to lie. It was the most boring thing, in my opinion, that we had did the whole week we were there. I was in New York, and watching girls kick in a line at the same time was definitely the least of my worries. Another day was now complete, and I could not wait to see what the next day would bring.

Well, actually I could because on the third day, it was freezing and raining. Also, we had to wake up at 4:30 a.m. for the Today Show. My mom, my sisters, and I had made signs when we got there that morning, but by the time it started, no one could read them because of the rain. We were all ill and exhausted because it was 6 in the morning. It was freezing and raining, and we ready to leave. We stuck it out though because we knew that this might be the only time we could get to see the Today Show live in New York City. The guest for that day were an acapella group, Pentatonix, and the ebola survivors. Even though it was not the best weather conditions, attending the Today Show was definitely a check off of my bucket list. That day, we ate lunch at Mcdonald's, and I have never been so happy to eat there before. If anyone didn't know, it is very hard to find a sweet tea past the Mason-Dixon Line, and all I wanted this whole vacation was a sweet tea. After that, we went to Broadway to watch the amazing show, Aladdin. I had seen shows at the Orpheum in Memphis, Tn., before, but those shows could not even compare to this one. All of the actors and actresses were the perfect fit for the characters they portrayed. The Genie was James Monroe Iglehart, and nobody else could have done a more amazing job. He won a Tony Award in 2014 for his outstanding role in Aladdin. The props were stunning, and the singing was beautiful. There was nothing more that we could have asked for. That night, we took a carriage ride through Central Park, and it was astounding. We were bundled in clothes, wrapped up in blankets, and drinking coffee. Even though we had been walking all day, I was ready to get off the carriage and start walking again. After the carriage ride, we took a late night walk and did some window shopping because most stores were closed. During the walk, my mom and I stopped and took a picture by The Plaza Hotel which is where one of of favorite Disney movies was filmed, Eloise at the Plaza. Another one of my all time favorite movies, Home Alone 2: Lost in New York, was also filmed there, along with many other great movies. It was now close to midnight, and that meant another day down and a few more to go.

By the middle of the week, I was exhausted, and everyone else was too. However, that did no stop us from having another full day of sightseeing. We went to Grand Central Station, and it was very neat. In one part of the building, two people can stand diagonal from each other with their backs towards one another, and when someone speaks, the other one could hear what they were saying. The pictures and portraits inside, were beautiful also. Next we went to the 9/11 Memorial, which was a very humbling and heartbreaking experience. We bought tickets to go in the museum that had pictures and videos of that day. The videos where I could hear people screaming nearly had all of my family and the other people visiting in tears. They also had the recordings of phone calls that people were making to their loved ones. The 9/11 Memorial was definitely an unforgettable and eye-opening experience. Now, it was time to get on the subway to go to Madison Square Garden. We had basically become professionals, when it comes to riding a subway, being ready to hop off at our spot. We had tickets for the Georgia vs. Gonzaga game in Madison Square Garden. Even though my family is big Ole Miss fans, we still love to watch Kenny Paul and Georgia. Georgia lost, but we still enjoyed watching him play, and we got to see some people from our hometown. After the game, we went shopping at a store I have always wanted to go to, Dash. Dash is a store that is owned by the Kardashians, which is one of my favorite families on television. We actually didn't shop, we just looked around because the cheapest thing in there was one pencil for eight dollars. Not to mention, it was just a wooden black pencil with no eraser. That same night, we went to Macy's Herald Square store which is eleven floors, and we actually bought some clothes there. Macy's clothes were at a more reasonable price than most. It was now time to go to the hotel and get ready for the next day. It was now just two days away before the parade, and I could see and feel the streets of New York getting more crowded than they already were.

We spent most of our day in Times Square. One of the first things we did that day, was ride the ferris wheel inside Toys R Us. To be honest, I just slept while we were on it, so it was one of my favorites. We got a New York pizza for lunch, and it was the best meal I had eaten all week. Most the food I had eaten that week wasn't what I was used to eating. Later that night, we went shopping on 5th Avenue. We bought lots of new clothes, shoes, and purses. We all went to sleep excited because the Macy's Day Parade was the next day.

It was four o'clock in the morning, and we were already outside trying to get our spot for the parade, along with many other people. The parade finally started, and Nick Jonas was singing one of his hit songs, "Jealous". One of my favorite singers, Meghan Trainor, was also there singing one of her newest songs. We were on the first row, so we were super close to all of these famous people. Seeing the famous people was not my favorite part, however. My favorite part was getting to see my sister, Anna Claire, perform in the Macy's Day Parade. She and hundreds of other girls got to be in the parade for being All-american cheerleaders. It was freezing outside, and snow was falling. We were snuggled up next to each other and wrapped in blankets. The Macy's Thanksgiving Day Parade was definitely an unforgettable experience for me and my family. Since it was our last day in New York and the parade was over, we certainly had a more laidback day than the previous few. We had nowhere to be at a certain time, and it was wonderful.

It was now our last day in New York, and it was a bittersweet feeling to be going home. I had made so many memories, but I also missed the little town of Booneville, where I could get a sweet tea wherever I wanted. We got up early the next morning, so we could make sure that we got through security and baggage check in time for the flight. Our suitcases felt about 90 pounds heavier than on the way up there because we had bought so many souvenirs. Our first layover was in Washington D.C., where we had to wait about two hours for the next flight. Our plane finally arrived in Nashville. Trust me. I had never been so happy to see our silver Yukon in my whole entire life. A week in New York City will make everyone appreciate our own vehicles and houses. In New York, everyone either walks to work or catches a taxi, and most people live in apartments and don't have their own house. It felt like it took us an eternity to get back home because I did not sleep any on the way back. When I got home, I was so glad to be able to sleep in my own bed by myself. No offense to my sister or anything, but I would rather be alone in my bed. People don't realize how much they love where they live until they visit somewhere that is the exact opposite. Taking nothing away from New York City, but Booneville is my home, and that is how I want it to be. Our trip to New York City was definitely filled with adventures that I will remember for a lifetime. I saw and learned many things that I will never forget. A big check was definitely marked off of my bucket list after this trip. Nothing beats spending the holidays with friends and families making memories. New York was a wonderful experience that I will always remember, but they say that home is where the heart is. I definitely couldn't agree anymore with that statement.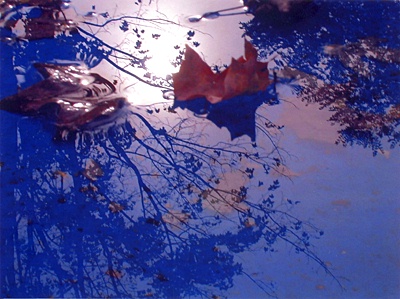 © Angela B., Holland Patent, NY