Finding God at Barnabas
November 14, 2016
What would it be like to go to a place that you enjoyed so much that you just want to stay there? In my life, Barnabas is just that place. Barnabas is a family camp on the northwest side of Keats Island. The island is located in the Howe Sound, north of Vancouver, Canada. The camp does retreats and also summer getaways, which I usually go to. Barnabas is also a Christian camp, and is an amazing place to worship and praise God. There are so many fun things to do, and so many amazing people to meet. Barnabas has taught me that you don't need technology and other extra necessities to love and worship God, and that praising God should be our focus.

I recently went to Barnabas this summer and had a very fun time. I will share all about my trip. Me and my family went, and we had to get up early at 4 AM to drive up to Canada. The drive was very long, but we got past the border smoothly. Now that we were in Canada, we got on a ferry to Gibsons, a town across from Keats Island, where Barnabas is. We barely made the ferry, and our car was parked on a steep angle. Me and my family were so exhausted from the trip we slept the whole way. When the ferry landed in Gibsons, we drove to a hotel, and then went swimming there. The next day, we got up early again and went to some coves up the coast. At noon we went and met some of the leaders that took us on a small boat over to the island. Everyone there found their rooms, unpacked, and then went to bed.

The first day,in the morning we had group time, and my group got to go to the waterfront. At the waterfront there is a thing called the barnabob. The barnabob is a basket on top of a metal ladder that was secured on top of a large buoy. The point is to rock back and forth to try and touch the water. Me and my friend climbed up, which was really hard because the metal ladder was slippery, but also, because I was climbing up, there was more weight on my side, causing the ladder to tip over. I had to climb up almost upside down, but I got up and we touched the water a couple of times. Later, at evening group time, we played barnaball. Barnaball is a game like volleyball, where the ball is thrown over the net, and someone on the other team has to catch it, or they go out. It is a very fun game, and our team won.

The second day, it was cloudy and rainy. Our group stayed inside and talked with the camp photographer. Then our group leader told us stories of his childhood. He was a very good skateboarder, and told us about a time when he wiped out skating down some stairs. His foot was fine, but he snapped all the tendons in his leg, so he couldn't move it for the next three months. In the afternoon, me and my dad went to take a hike to the other side of the island. The weather was still very rainy and we got soaked in the forest. It was a long hike, taking about an hour, but it was worth it. The cove was very misty and cloudy, with a large dock. The dock had many small boats, and we saw a fisherman go out to sea. In evening group time, we ended up going back to the cove, where we skipped rocks. Our group almost got lost on the way back, but we made it home to the camp.

The third day, it was finally sunny, which meant I could go to the waterfront. Since the weather was nice, tube rides were now available. There are three tubes, a disk where you lay down, and two seater that you sit up in, and an inflatable hot dog for five people. Sadly, the hot dog wasn't pumped up. I liked the hot dog because of how random it was, and how easily it can tip over. I booked a disk ride for me, my brother, and my dad. We went fast and almost tipped over a couple of times. It was super fun. But then three rides later the tube got deflated, and the waterfront had to be shut down. That evening I played volleyball and barnaball with my group. When it got dark we went inside and played psychiatrist. In this game there is one person who is the psychiatrist, and asks people questions to try and figure out a rule everyone else develops to decide whether to lie or tell the truth. After that we had a final devotion, then went to bed. I'll never forget walking back across the field to my room, seeing all the beautiful scenery and the starry night. It made me think of God and all the wonderful things He's created. I went to bed and the next morning we packed up all of our stuff, then took a small boat to Gibsons. From there we got on a ferry to Vancouver, the drove all the way home.

Barnabas was such a fun place. It has taught me that technology and other extra necessities aren't needed to love and worship God, and that praising God should be our focus. Barnabas is a great place to go and offers so many unique experiences and people, such as barnaball, hikes, the waterfront, group and group leaders, ice cream, and devotionals. This is one of my favorite places, and I always love to go there. Barnabas is also a great place to go find God, and I feel that through the beauty of the land, and the message of the devotionals, it will be easy to see Him. Maybe one day you'll get to visit too!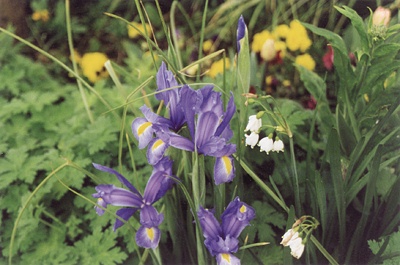 © Kelly G., Norwell, MA