A Friend in Need
November 14, 2016
Have you ever felt compassion? Determination? The urge to help? I think that, like me, most of you have. Sometimes our goal is difficult to achieve; we may have to go with our instinct instead of the crowd which can be difficult, but ultimately rewarding. Now, have you ever seen a dog? Yeah, I think you can see where I'm going with this….

It was a hot day in July, just like the entire summer had been. We were driving up my grandma's driveway when I noticed a strange dog in her lawn. At first I thought it was just Rosie, my grandma's dog, but this dog seemed too big and white to be Rosie. I went inside and asked my aunt who's dog it was. She didn't know and told us (me and my cousins) to bring it on the porch so she could check for a collar. The dog did have a collar but, unfortunately, most of its tags were illegible. The one we could read said Eugene, OR which was a four hour drive from where we lived and the dog looked to healthy to have walked that far.

My aunt still tried calling the number on his tag but it just lead her to a veterinary clinic that was inconveniently, closed. I decided the best thing I could do for the dog was make sure he didn't leave. My grandma lives right beside a very busy road with no fence to keep a dog in. My cousins and I started playing with the dog, who was extremely friendly and full of energy! The next thing we knew we were tearing around the lawn with him. In fact, he got so caught up in the game that he started pelting, at full speed, toward the road. My cousin, Carter, who had been getting bored of the dog told me that he was probably going back to his owner. I didn't believe him. I ran to the side of the road and started calling for him. I wanted him to find his home but I didn't want him running loose on the streets; my dad had told me he'd seen dogs get hit there.

I had just about given up when out of the corner of my eye I saw a white figure galloping across the street…. and a silver car heading right for it! It was close, but he missed the car by just a few inches. As he entered the yard I knew I had to do something to help him. My aunt came up with the idea to ask around, see if anyone in the neighborhood recognized him. So, I hooked him up to a leash and, although it took a bit of convincing but eventually my cousin, Micah, agreed to help me and we were off. We had walked halfway around the block without luck when we spotted a man working in his yard. We explained our situation to him and asked if he had seen someone with a dog like this. To our surprise, he told us there was a lady down the street who owned dogs like this. We rushed to her house where she gave us some vital information. She looked at his tags and was able to tell from one of the illegible tags that he had a microchip in him. We thanked her and headed back to the house.

When we got there we told my aunt this news and our good friend Wayne agreed to drive us to the vet. Carter, Micah, Wayne, his two little granddaughters, the dog, and I all piled into the car and off we went, nearly bursting with excitement. When we got to the vet's we jumped out and ran inside. The vet scanned the dog and was able to tell us that his name was Jax and he was just from down the street. They tried to call his owner but he didn't pick up. They couldn't give us his number but they promised to call us when he contacted them; and they did! Just as we were about to leave they got a phone call from him saying he would meet us at the house to pick up Jax. We had just gotten back and just as we were getting out a blue pickup truck pulled in, needless to say dog and human were reunited.

I think that if there was anything I learned from this event it is that you need to step out of your comfort zone if you want to make a difference. I can be pretty shy and so it surprised everyone when I went around asking random strangers about a lost dog, but if I hadn't done that I might not have found the lady that knew he had a microchip which means, as a worse case scenario, that he might never have found his home. So, if you're ever faced with the choice between your comfort and someone else's, choose the ladder and you'll always win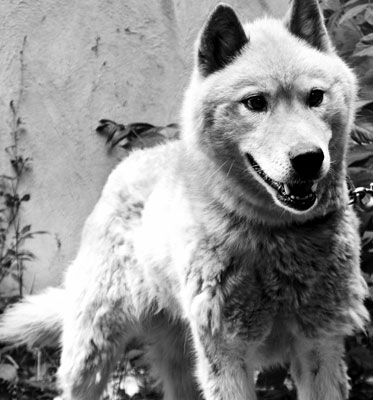 © Mike A., Newark, DE