My Mistake
September 23, 2016
Waking up in the morning of October.
Getting ready for school is the only option
for every morning.
Getting all my stuff ready to go to school,
I could see the sun shining through my room.
I packed all my school supplies and left my house.
By the time I got to school, I walk to the Cafeteria to get
breakfast. After I got my breakfast, I went to the table that
I go every morning. I usually wait for my friends but whenever
I'm eating something, I really don't care about them.
The school bell rings, "rrrrrrrrrrrrrrrrr"
"Finally School started", I said
I got up from table and walked to 1st period.
When I arrive to 1st period, everything was going well. I thought today will be
a good day for me. Alright since I talked about what happened before I made my
big mistake, maybe I should skip this part and tell you the most important part
of the mistake I made that changed me.
.54 Minutes later.
The first bell rings, " rrrrrrrrrr". 1st period is over and now it's time for
2nd period. It was passing period when I arrive to class early. I was 4 minutes early when suddenly, a friend of mines came in the classroom just to see her cousin that was in my class.

When she came in, I eventually looked at her in a way that defines, " Why would you do that to yourself". The way she was wearing her pants, was below her
rear. I know you guys are reading this right now and wondering why a guy like me worries about it. The reason why I'm concerned about this is because it looks
awful when girls sag. Like why would girls sag. I know dressing cool or wearing beautiful nails or putting makeup on makes you beautiful,but all that stuff you
put on yourself doesn't make you beautiful. It makes you look like clowns and a
circus freak. Each and every girl out there are beautiful the way they are.
Okay since I told you why I'm so concerned about it. Now let's get back to the story.

To Be Continued……………
I was in class when she came. When she came in sagging, I said "why are you sagging". She looked at me and smiled but didn't say anything. Then she turned around. I was pissed that she didn't say anything. I got up and walked towards her. Then I put my hands on her pants and pulled them up for her.
Heres the crazy part. Her cousin got up and yelled " why would you do that to my cousin for. Don't put your hands on her"
"Well I don't like the way she's sagging", I said.
Well after that big scene, 45 minutes later, I was sent to the office.
When I got there , I was told to call. The vice principle asked me if I
have anybody to call . I said, "yes". "Who?". "My brother is off,maybe he will like to talk to you.
My brother answer,"Hello".
Vice principle, "Is this his Brother"
Brother, " Yes"
Vice principle, " well I got your brother here because he was caught pulling a girl's pants…………….I know he is a good kid. In the future he will not do this. But this huge problem could screw up his record. He could be charged for sexual harassment. I will not allow it if it comes to it,but for now he will be sent home for the day."
What I learned about this is I should ignore anything that distracts me.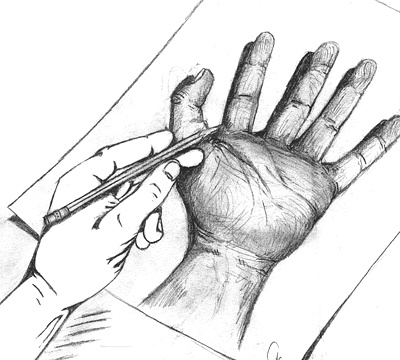 © Casey C., Rockport, ME