Seatbelts? That's a No from Me
September 28, 2016
I believe in not wearing your seatbelt while in a car because not everything that is supposed to protect you actually does that. While my mom was in the hospital with me, my aunt got in a really bad accident. At the time she was not wearing her seatbelt and it was said by the police that if she had been wearing her seatbelt she could've died. A seatbelt. Something that is supposed to protect you from serious injuries could've killed my aunt. It was already bad enough that I didn't get to see my aunt right after I was born, but if she was wearing her seatbelt I would've never seen her at all. That was strike one.

It was the Labor Day of 2009. I was helping my mom clean the house, and while doing so the phone began to ring. I looked at the phone hoping it wasn't those stupid 1-800 numbers, but I saw it was grandpa calling so I answered it, "Hi grandpa!"

Then, with his thick Spanish accent, "Hi mija, whatchoo doing?Are you guys busy?"

" No, not really, me and my mom are cleaning the house and my dad and Izaak are outside in garage probably cleaning the cars. Why did you need something?" I curiously asked.

"Yeah I was calling to see if you guys can go pick up your tia Chavela and the family. They got a flat tire but I can't go because I am at work. Can you guys go?"

I quickly shout at my mom, trying to overpower the vacuum she's pushing around to see if we can go get them and then I respond with,"Yeah we can. We'll be there in a few minutes."

"Okay thank you Mija."

We all quickly load up in the car to go pick them up. On the way there, we are talking about how when we get back we'll have a barbeque and just have a good time. Well, we couldn't have been more wrong. As we drove, I remember seeing a really bad roll over accident with a van. All the policemen, firefighters, and paramedics were there already and the lane was shut down. I remember hearing the flight for life helicopter chopping through the air about to land. It couldn't be them because my grandpa said it was just a flat tire. We kept driving but we couldn't find them, so we turned around. I remember pulling up to the scene of the accident. I remember seeing the van on its top. I remember seeing a pure white sheet covering some part of the van. I remember seeing glass all over the street, like sand at a beach. Everything began to move in slow motion, like those dramatic tv series you see on msnbc. I remember my mom getting off of the car and going to ask the police. Then, I vividly remember the policeman saying, "It was a Hispanic family of four, one female and three males. Older female and male and two younger boys about 15 and 12. There was one fatality." A description fitting like a glass slipper on Cinderella. I remember seeing my mom break down, mini waterfalls streaming from her eyes.

We found out what hospital everyone was transported to. First we went to my tia. She was injured, but nothing too fatal. Then we knew someone was being transported to Denver in the flight for life. We rushed in like kids running to recess. My mom asked the ladies at front and here we found the my cousin Giovanni was here. They took us to a waiting room. We sat and waited for what seemed like centuries long but was, in reality, only 15 minutes. The doctor came in. His body language alone informed us. My cousin Giovanni had died after several failed attempt of resuscitation. Now there was two people dead, we just didn't know who the other person was.

We ran around like chickens with their heads cut off trying to find out more about what exactly happened. In the end, we found out that the two people who had died was my cousin Giovanni, who was my tia's oldest son, and my tio. The seatbelt for my cousin was defective and wouldn't unbuckle. This didn't allow my cousin to get out of the van in time. He was in the van as it rolled a few times and once the seatbelt finally unbuckled, it threw him from the van causing him major head trauma. He died on his way to the hospital after many failed attempts of resuscitation.That was strike two. Now my uncle was asleep while the whole accident occurred. Of course he was wearing his seatbelt, so when the van was rolling over it trapped him in the van as is continuously rolled over. At the same time it suffocated him. That was strike three. The cause for each death was their seatbelt. Now my aunt and her youngest son,Jonathan, were not wearing their seatbelts, and sure, they had some injuries, but they still had their lives.

A seatbelt, something that's supposed to protect you, killed my cousin and my uncle. A seatbelt, something that's supposed to protect you, stripped my aunt from her husband and her oldest son. A seatbelt, something that's supposed to protect you, ripped a brother and a father out of my cousin's life. A seatbelt, something that's supposed to protect you, stole two puzzle pieces to our family. A seatbelt, something that's supposed to protect you, didn't protect my cousin or my uncle.

I believe in not wearing your seatbelt.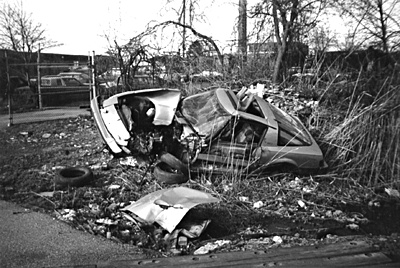 © Ashlee M., Wilmington, DE