Big Things
September 21, 2016
My name is Melanie G., and I'm a student ain high school. I have a wonderful mother and an amazing step dad. I also have three brothers, I'm the only girl. I have two best friends who's always there for me and do everything with me. I have an obsession with clothes. My favorite place to go is Mexico, Baja California to see my grandma. Other that I love thinking about my future and what I would like to become in life. I would like to go to college and study. I am strong and responsible and i do big things..

My family loves doing things. We go to a lot of theme parks, like Great America, Six Flags, Santa Cruz, even sometime we drive down to LA and San Diego to go to Disneyland, Universal studios, Sea World. Now we don't really go out because we have a newborn in the family. Other than that we love being together and when someone is not there it doesn't feel the same. We enjoy every second we're together, even when we stay home and watch movies or play games or just talk. I love having brothers because they're hard on me and so that makes me a more responsible and independent. I love playing soccer with my brothers because they challenge me. My brothers and I hardly argue, we get along oh so well and for some reason people find it so shocking.

My obsession with clothes is big, but with shoes that's something else. Every time I go out and we go to the mall I end up buying couple shirts, jeans and some shoes. The type of brand clothes i like is Ralph Lauren, Tommy HIlfiger, Hollister, Pink and many more. The type of shoes i like are jordans! My parents always telling me they're going stop buying me jordan's because they're uncomfortable, which they kinda are but not just that, they're somewhat expensive shoes to them. Other than jordans i do like vans, converse, and huaraches.

I enjoy going down to Tijuana not because it's so beautiful and because the food is so good, but to see my grandma, cousin, uncles and aunties. My grandma is from/lives in Sinaloa Culiacan. She drives about 36 hours down to Rosarito to see my brothers and i. We drive 10 hours to see her. My grandma is like a second mom to me. We do a lot when we go out to see her. We love going to the beach, going on horses, love going on walks to the strip in Rosarito, going to different restaurants and many other things. I have a uncle who lives out in Rosarito , he's my mom's brother and we usually stay at his house when we go down there. Something that i love about my uncle's house is that it's by the beach. We can go anytime we want. But there is somethings that i don't like which is that where he lives it's always busy because there's a taxi business and also because people are always around. Since we go during the summer people are taking vacations and it gets loud and crazy. I have so many cousins out there. Most of them are younger than me.We love going to the park to play soccer and also playing this game called Loteria . it's a pretty cool game. Other than that enjoy the sun sets at the beach and the nice fresh air.

I love thinking about my future and what i would like to study for when i go to college. I would like to go to Sac State because it's here in my hometown, Sacramento. I would like to go there because i'll be closer to my family. Also because i heard it's a good college and i have some family members that went there.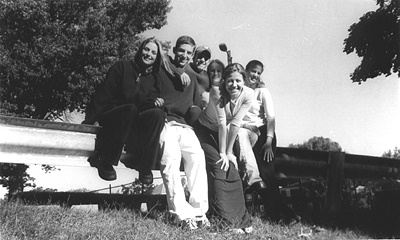 © Carolyn C., Marblehead, MA