A Speck
September 14, 2016
In times of sadness and loneliness, anxiety, stress, I seem to be turning to my memories. It's probably no good for me; dreaming of something that once was. But don't be fooled, as that sounds like I fill my head with romanticized, honey sweet fables of Some Boy and I. I don't. I just think about when I was happy, so happy I floated through my days and nights. Right now I sit with my headphones in, listening to the playlists of a magical summer - probably too magical for someone so fragile. Now all I have left are the photographs, and souvenirs. But sometimes, like right now, I get that same golden lit feeling in the pit of my stomach. It's lovely, it's warm and the radiation of this is hot under my palm, on my chest.

And I'm left wondering: is this leftover from the summer, is this what is left of that time? Or is this within me? Regardless of where I am, just waiting for the right moment to return?

If the Universe is like water, and you flow with it, you'll be led to where you need to be. Knowing this, I put a thought out for the Universe to hear. Like a drop of water hitting the surface, the Universe rippled, and the waves drew me in… to my motherland - Israel. I wanted to know where I came from, the parts of me that mattered. I thought that maybe that would give me a clue in understanding who I am.
______
There was this one moment. It wasn't perfect, no. But it was so special, that I remember feeling sad during, knowing that it was just a matter of time before the night would fade into the past as a memory. Certain things feel so good as they happen you would prefer they stay there.
It felt like we had just arrived in Israel, because we had. But there I was, laying in a sad excuse for a sleeping bag in the middle of the desert. Although a dim situation, the hours between getting off the bus and about to sleep were peaceful and nice. We cooked dinner, sat around a campfire. And when it was time to go to sleep, my friends and I made a circle, heads facing in, with these sleeping bags. "Don't stay up too late," we were advised, as we had to wake up at 3 am for our first desert hike. I thought I would talk with my friends, listen to some music, and drift off to sleep. And then I looked up.

The sky was jet black, and appeared as though it had been painted all streaky with a wide brush. This rich black wasn't pigmented, the color just flowed across the sky. And I had never seen so many stars at once in my life. They were flung onto the blackness so liberally - the perfect, beautiful amount, like the dusting of reddish brown freckles onto someone's shoulders. They glimmered and shone at every angle. I felt my eyes travelling from one end of the sky to the other and failing, as this whole picture was endless. My friends noticed this wonder, too, and I heard them trying to find the Big Dipper. I felt so drawn in, gravity pulled me towards this magical sky of twinkling lights. They were so abundant, by sheer number, it seemed that if you stuck your tongue out, a droplet of silver would land there. Those stars probably tasted like rain, or cupcakes. My head was spinning, my eyes welling up with tears. This entire admiration probably lasted two minutes, but it felt cosmic, infinite.

It was then, looking back at this now, that I realized somewhere inside myself why the Universe had led me, pulled me like high tide, to that spot, to Israel. As I stared with glossy wide eyes at the stars so small they looked like the dots of an I, I realized the only thing smaller than those specks was me. I felt indescribably small, in a good way. My problems drifted in another galaxy, my own thoughts seemed to halt for that moment. A favorite Native American saying of mine comforted me in my moment, that speck of time. 'If we look at the path, we do not see the sky. We are Earth people on a spiritual journey to the stars. Our quest, our Earth walk, is to look within, to know who we are, to see that we are connected to all things, that there is no separation… only in the mind'. I knew I surrendered myself the Universe then. And the Universe is like a river, always there, waiting to pull you in if you allow it. If you flow with it, you'll end up where you need to be. In those few minutes, on that one night, in that one magical summer, I began my 'spiritual journey to the stars', I mean hey, I was right under them.
As the light shone down on my friends and I, I drifted off to sleep lined with silver. I was warm.
______
Thinking about that night, I get that similar golden feeling in my belly. I'm not hiding behind my memories, or getting lost in them. Maybe you remember things for a reason. Maybe I remember that night so well so that I could take the stars with me - for all the cloudy nights I would someday face.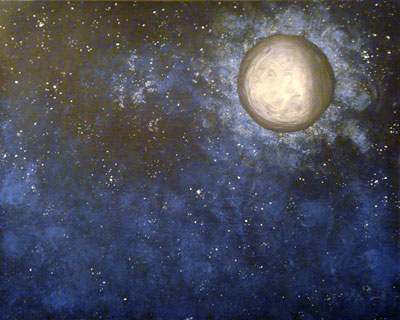 © Allison H., Vancouver, WA