What's Wrong with How I Dress?
May 21, 2016
While there are girls out there who love wearing skinny jeans and miniskirts with tight tops, I'm a person who can be confidently defined as ' someone who is perfectly in contrast to them '.

I wear T-shirts that aren't really meant for girls, jeans that hardly cling to my skin and any kind of jewelry or other feminine accessories is a big no-no according to my style. The fact that I have very short hair adds to why I get recognized as a boy virtually always by strangers no matter where I go. It happens so often it doesn't even bother me anymore. Why, sometimes even people I know mistake me for a tall dude if they don't look closely enough. And that happens at close range, when they're a considerable distance away from me, they're no better than the strangers.

Some of you might already think that I'm a tom boy but no. I'm not. I'm reclusive, reticent, unobtrusive, obsessive and eccentric. I'm also an Aspie which is short for someone who has Asperger's Syndrome.

So, what's wrong with the way I dress?

My parents are absolutely not the problem. They couldn't be more cool about what I wear; they think it's decent, simple, different and original. They even think it makes me look spiffy and smart. But it's everyone else (excluding my friends) who have an incessant problem with how I dress. Family friends, acquaintances, my parents' colleagues, strangers who somehow find out I'm not a boy and most importantly, relatives. Most times I'm thwarted with implicitly pejorative questions as though I have a serious problem that needs solving. Why do you dress like a boy? Why don't you wear girl clothes? Why don't you grow your hair longer? What made you like this? Have you consulted someone about this?

I've heard these questions so many times in my life that years ago I started answering them even before they could be asked. The look on their faces asks it way before their mouths actually do. Growing up in a tradition-centered, highly conventional, superstitious and Hindu-based country like India has its many shortcomings and quirks.
Especially in South India where only the fewest of cities have beautifully expanded into havens of independent thinking and diverse technologies. I live in a rinky-dink old run-of-the-mill kind of a town called Vellore where, except for a scattered elite of literates, people couldn't be more narrow-minded.

Now, it would be rather below-the-belt of me to state that I've been completely ostracized by people but often I have been made to feel truly awful about of my maverick dressing style. For example, many a time as I've alighted from one of those ubiquitous and quintessentially Indian town buses onto a bus stop garbed in my former school uniform which included a knee-length divided skirt, almost every Tom, dick and Harry around me would gawk and snicker at me because my hairstyle simply didn't go with my clothes. A few times I've been presumed to be a transgendered person. That truly made me realize how much more dehumanized actual transgendered people must be made to feel every day by society.

It is a terrible feeling. I always felt like a caged animal being ogled at by passersby each time such demeaning situations unexpectedly turned up.

Throughout these difficult experiences, I've frequently pondered why I make myself go through such ordeals. Why can't I just change my style? I could grow my hair till my neck or just give a feminine touch to my current boyish hairstyle, start wearing clothes with maidenly curves and fashions and just...give up this doggone style I've created for myself which unfortunately expresses my personality exactly. Assertive but also approachable.

But, why should I change? It's not like I'm doing something bad. Why should I give in to the world's way of reacting to something that's different? This is who I am. I choose what I wear and how I look, not society. In the end, nobody's going to be judged for what they wear on the outside. What will matter is if we all wore the honorable attires deep down, in our hearts. Have we worn love? Kindness? Honesty, justice and compassion?...at the right times when they've been needed?

The way you dress is up to you. Just, don't let anyone change you when you know they are wrong. I've realized that, have you?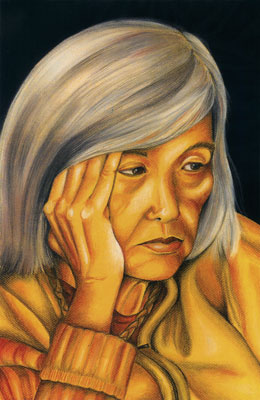 © Kaitlin C., Forest Hills, NY