Eyebrows
May 2, 2016
Eyebrows say a lot about you. Those with perfectly arched eyebrows show signs of good grooming. Whereas an overgrown unibrow show signs of carelessness and lack of preening. Though this is generally true, I am the exact opposite. I pluck, primp and preen my eyebrows, yet they refuse to be controlled.

I just so happened to pull from the wrong side of the gene pool. Instead of inheriting my father's even eyebrows, I inherited my mom's eyebrows. Eyebrows that start thick and even in the front, but then move out to a thin, wispy, uncontrollable mess. It's hardly noticeable on my mother since hers are just so thin anyway. But by the powers of heredity, I received my father's eyebrow thickness, making my mess obvious to the world.

I've tried plucking my two monsters into shape, but it's hardly distinguishable with my uneven thickness of hair. It's like trying to tame a tiger: you can do it, but it takes an excessive amount of time and skill.

My other option is to pencil in the thin half to match the thick half. Normally, this works and gives my eye decor a good look, but eyebrow pencils are easy to lose in my bathroom drawers full of chaos, and sometimes the time and effort is not worth doing it every day.

Nevertheless, I press forward. The showdown between hair and tweezers continues daily. One day I'm sure I'll learn the secret behind keeping proper eyebrows. But until then, I'll just keep plucking away, pulling out hairs one by one.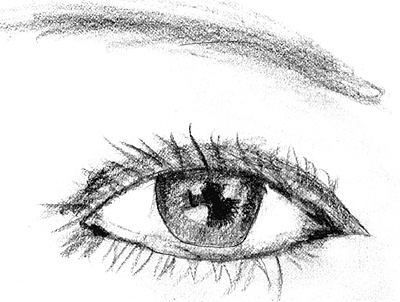 © Natalie D., Fanwood, NJ