Extra-introvert
January 3, 2016
Shy, alone, nerdy, and awkward. Does this sound a little familiar?
Enter—the introvert, AKA me.
There are always those kids who are quieter than the rest. Everyone seems to think that if only they wanted friends they could just talk and achieve that goal. True- for some. Others? Like me? Ha! Talking was the hardest thing to do. Even saying, "pass the stapler" required minutes of thinking. Teachers seem to have the same opinion. Talk and you will show your understanding, which leads to higher marks. Sure- if only talking wasn't SO HARD.
Let me tell you my story.  I had many friends, wasn't the quietest kid in the class, got into some trouble but grades was good and I tried in school. Enter high school? Lost all my friends and realized I relied upon them for my sanity and confidence. I was left alone. I made a few friends- all quiet like me but better than anyone before.  I played music, wrote to relax, read and talked to the librarian in my free time but nothing was really the same.
Then I started to get inspiration; after all, I can't let me old friends bring me down, they didn't' care anymore, so why should I? I joined cross-country despite being the worst runner in the entire school. I got better and better each practice.  I know I got made fun of, behind my back; I didn't let that stop me. I held my head up and even went to the championship as a back-up runner. I talked to the coaches and I knew this was an activity I was going to do each year. Finally, at the term award ceremony, I won the most improved runner award as well as a certificate from the championship. I was proud!
Back in middle school, I was the prolific public speaker. When I told my English teacher this, he asked me "an introvert as a public speaker? That's new". Well yes, it's new- the introvert part.
Over the years, I became known as the kid who was the worst runner but joined cross country, the girl who didn't know a thing about machines but joined robotics, a girl who won the spelling bee and public speaking tournament, and finally, a girl who was shy, quiet and awkward. I don't need to fit into a category, I can contradict myself, I can be shy but open in front of friends and lastly, I can be a girl who has the courage to write this and help others.
Don't let people define who you are, do what you like, after all, everyone is in charge of their own happiness, don't wait for it.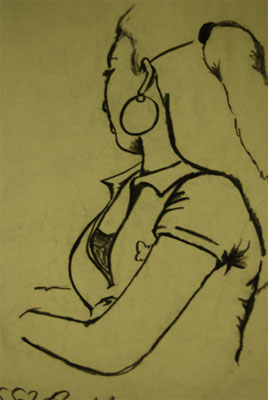 © Janessa B., Kannapolis, NC