Harlem's Kitchen
MAG
May 14, 2015
Harlem's Kitchen was a fast food stand in a food court located in the middle of grocery store. It was a hole-in-the wall shop, kind of dirty, rundown, with the same quality of greasiness that promised cheap food and good taste. It was a place with metal chairs that groaned when you moved them, and it had a blinking sign that flickered in a mixture of bouncing English and Chinese every time you blinked.

My father always took us to Harlem when he came home late from work and was too tired to cook. He'd drive us to the stand after work, sit us in a ratty booth, and converse with the woman at the counter. He'd speak in rapid fire Cantonese, and she'd respond back even quicker with a ripping of paper and a tack on the wall. As we waited, my brother and I would jealously watch the window of kids playing in the arcade next door. We'd discuss games we wanted to play, prizes we wanted to win, and devise secret plans to smuggle coins in, each fighting the other for my father's attention. While we fought, my father would ignore our cries for money and games and stare at the foreign dramas blaring on the hanging TVs.

The torture ended with a woman's yell and the sliding of a red tray on the counter. The appearance of food would shut up all our demands, except one: to dig in. At my father's cue, takeout boxes would be opened and chopsticks would fly out, each held in tight examination. They would glace over the soaked, crunchy noodles, steamed ong-choy, and graze itself against the fried rice peppered with onions, peas, and bits of beef. And from pieces of renown Chinese donut, savory wonton soup, and walnut shrimp, we'd forget about being tired, being lonely, and enjoy together the little time that we had. Just a simple meal would end all the stresses of a single day.

Currently, a 100-yen store, consisting entirely of cooking utensils and household items, replaces the arcade my brother and I fought over. The chairs that we used to play on and drag around are now solid and plastered to the floor. The walls are newer, the TV screens are bigger, and overall, the food court is brighter than before - but even after all these years, the hole in the wall shop that I loved and hated still remains. It's still the same as before, with the same owner and the same muttering lady at the counter, and it looks almost archaic compared to the bustling shops that sprung up around it. Yet it's still the most popular place in the square. Small, crowded, and dingy, it brings up a line of customers that snake around the court. I'd like to think of it as a stubborn stand that refuses to be swallowed up and forgotten.

Even now, the taste remains the same. And when I leave the tattered booth and empty plates of my childhood foods, I am stuffed just like before: belly brimming with good eats, memories, and simple, savory satisfaction.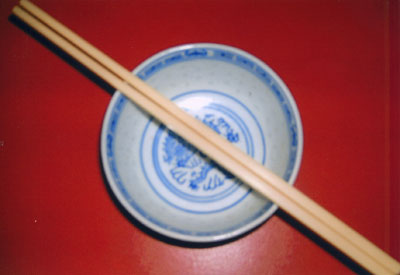 © Brian N., Milford, CT