Famous Eggs
MAG
As I sit at the light blue table, he shuffles over, grumbling about not having brown eggs.

"Brown eggs have a better flavor," he explains to no one in particular. He clears his throat, a habit he picked up when he dropped another.

At first glance he reminds me of a grouchy man, but as I watch him work his magic, I see a chef. This chef is dressed in very un-chef-like attire: an old blue terrycloth robe, a teal long-john shirt, and white socks pulled up high, the bottoms showing wear and tear. The robe takes me back to all those Christmases of waking him up with his robe in my hand only to hear his grumbles that it was too early.

With a chiming clang, he places a glass bowl on the light blue counter in our light blue and white kitchen. As usual, I automatically look at his small round nose that sits above a blond mustache - the same nose that he so graciously gave me. After finding a broken egg, he roams over to the computer to retrieve his beloved home-ground coffee. He takes a small sip, savoring the flavor.

Returning to his post, he cracks a few eggs into the bowl with his browned hands that show strength from shoveling, and picking his baby girl up out of the bellowing waves. Leaning over the eggs, whisking quickly and adding Mrs. Dash, his blond hair falls over his ears and into his eyes shielded by glasses. The sun jumps through the window and reflects off his silver highlights. He holds his post with whisk in hand as if he were a Williams-Sonoma warrior ready for the war of the eggs. Something catches his eye, and his brows furrow and lips purse: a shell. How dare a piece drop into his masterpiece? The intruder is removed. This man knows what he is doing; the kitchen is his domain.

My mom walks through with George, the cat. Dad stops long enough to scrub George's head and tell him he is dumb. With disgust, Mom leaves the room with her beloved feline. Dad looks at me with pure delight at George's torment, and he grows a smile, showing his tobacco-stained teeth; wrinkles appear by his mouth and eyes. George then comes tearing through the kitchen and slides across the floor.

"Dumb George," Dad says in his Looney Tunes voice and the same mischievous grin. While he clears his throat, I cannot help but giggle.

He decides he has whisked the eggs enough and goes to dump the Dash-speckled, yellow liquid into the pan but hesitates. Are they ready? Should he add more Mrs. Dash? He pours. Waiting to scramble his famous eggs, he asks what "Goob" is doing that day and exclaims that he cannot understand why I do not like "real" coffee. His speech is followed by the clearing of his throat. He then goes back to the computer to play more of his war game. The air is filled with gunshots and the smell of Mrs. Dash.

"Should you stir your eggs?" I ask.

"Oh, yeah!" he exclaims, clears his throat, and runs for the stove. Stabbing and scraping, he looks like a man who is feeling defeated. I know better. These are his special eggs.

"Pam, better start your toast!" he yells to my mom in the other room and clears his throat. He ends his mission of the eggs with one comment: "Welp, ther dun."

As the gunshots cease and the Dash smell fades from the air, we scoop up our eggs and venture into the living room.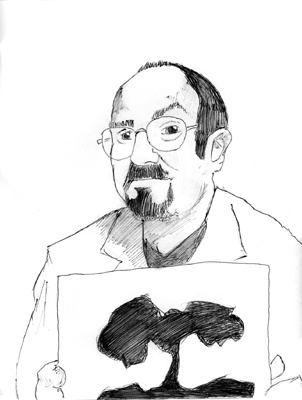 © Jennifer W., Manomet, MA