The Mask
MAG
"Stop making me laugh. Ithurts!" Amanda shrieked, writhing with laughter as she lay next tome on the floor. We had spent the last hour covering our faces withcheap, mint-scented masks and I couldn't answer or even open mymouth to laugh. My lips were stuck together with the goopygel.

We lay like that for a while, trying everything in our powerto stay still. From the corner of my eye, I could make out her shape andthe bizarre contrast between the light green face mask and her red hair.Had I been able to speak, I would have told her I loved her and that wewould be best friends forever.

"Oh man, I have to get apicture of this," my older sister exclaimed, running to retrieve acamera. Amanda and I wiggled into position and hugged each other tightas my sister's camera savored this moment of our five-yearfriendship. We were eleven years old. We understood each other as onlybest friends could.


* * *
I look at that photograph now,years later. We look ridiculous. We look ecstatic with the gel stuck inour matted hair, hers tomato red, mine potato brown. We look joined atthe hip, our t-shirts knotted together with our clasped hands. Our younggirl-love infatuation stares back at me. Just another innocent smile,just another sleepover. Our souls the same, dwelling in two bodies. Ituck the picture back into the album. I feel bothered.
* * *
"I need to wash this stuff off," Amandacried. She ran to the bathroom and I heard the water. "You shouldreally take your mask off soon. It's hard to get off. It'sso gross!" she hollered. But I didn't want to wash it off. Iknew that this moment would be gone as soon as I got up from the floor.We would continue to smile and have fun but this moment would never comeback.
I began to cry, the warm tears falling down my mint-maskedface. Amanda didn't hear me at first, but when she did, she turnedoff the faucet and her big, clammy hands patted my hair and her eyesfilled with compassion. We didn't need to say anything. Sheunderstood. I cried until the mask washed away, and then we settled inagain, shivering on the floor.
* * *
The bell screeches.Kids pour out of classrooms into the hallway: pink hair, pierced noses,dirty sneakers, fresh, sarcastic, nonchalant ... the disguises paradeby. Drugstore perfume fills the air. College posters line thehallways.
When did it happen? What exactly happened? I spot hertomato-red hair. We pass in the hallway like strangers. Our eyes try notto meet.
I think of my photo album and the memories it holds.Does Amanda ever think of me? Does she still have her copy of thephotograph? Amanda, my best friend. My soul mate. If you heard me cryingnow, would you turn off the faucet? My mask is burning.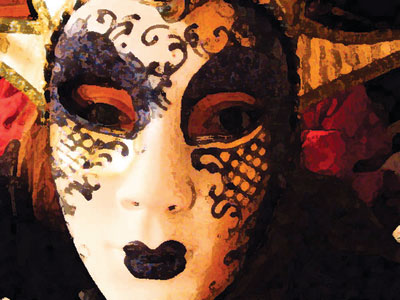 © Katie C., Libertyville, IA