Seashells
MAG
October 20, 2013
I knew I wasn't over you when I saw that seashell. Walking hand in hand with my new boyfriend along the shore, I stopped to pick up the beautiful specimen, the colors catching my eye. I smiled and turned to him, saying, "I wonder what kind of shell this is."

A shoulder shrug. "I dunno." And as he kept walking, my smile faltered.

You would have known. You would have brought me to the water's edge, rattled off the names of dozens of sea creatures, and explained where they came from. You would have had this joyous gleam in your eyes, blue as the ocean swirling beneath our cuffed jeans, and the beauty of our surroundings would be magnified one hundred-fold by your attention. I would have laughed at you, and you would have splashed me with your feet. I would have been so happy.

Instead I stood there alone, letting the salt water run through my toes and down my cheeks. Before I knew what I was doing, the shell was in a million pieces between my fingers. A million tiny broken pieces I hurled into the sea.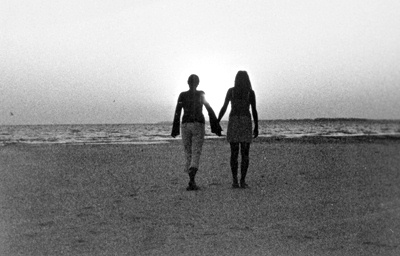 © Kim B., Marblehead, MA