The Majestic Ocean Blue
MAG
April 25, 2013
I close my eyes, listening to the soft sound of water trickling under my board. This moment is so peaceful, just me and the ocean. The sun and the wind dancing in perfect harmony make me ponder the balance of nature. The sweet sound of birds overhead distracts me from the oncoming wave.

When I open my eyes, blue sky and green water fill my vision. I see a perfect set coming toward me. I rotate my feet in tiny circles – the water is cold, but so smooth – creating whirlpools that tickle the backs of my legs. I lie on my board so smooth earlier but now covered with sticky globs of wax engrained with sand.

Paddling hard, with arms like knives, I aim for the beach and wait for the wave to reach me. As the wave nips at my heels, I keep paddling. It reaches me, picking me up like a hitchhiker, letting me ride along, accepting me but not knowing me. I feel as though I am one with nature and she has gobbled me up. Will nature swallow me whole or spit me out like an unwanted taste in her mouth?

This exhilarating moment, continuing but running out of steam, brings me closer to shore, closer to reality. Finally, it ends and, unsatisfied, needing more, I paddle back out again.

Continuing this cycle in a loop of lust, I seek to feel nature's arms around me. Waiting for another wave brings me back to where I started, but this time, the sea is calm. Frustration overcomes me. I want more.

I sit, taking in the magnificent beauty around me, realizing that the day is nearing its end. I may have just one ride left. Fish swim past in small groups. I envy them, traveling so gracefully. So carefree, they swim all day. I wish I were one of them, living in this colorful world of wonder.

Looking up, I see the sun beginning to set, a giant, radiant yellow sphere. The sky is glowing orange with accents of pink and fluffy purple clouds. I take in the magnificent scene, wishing I had a camera.

A dolphin fin pops out of the water just 50 feet away – and that's when I see it building. Here it comes. The best wave of the day has finally arrived, and I welcome it with open arms.

Excitement builds and blood flows to my brain. I can feel my lips widening into a smile. She's here, and she's all mine. I race again for the free ride; we meet, and I know the wait was worth it. This one feels like I'm flying, soaring through the clouds, the sound of rushing color, the taste of salty mist off the wave.

My heart beats a million miles an hour and I feel like I'm where I belong. Time stretches out as I ride down the beach, and finally come to a stop.

I feel sad it's over, but the ocean's miracles are always there for me to return to. I pick up my board and walk across the sand. It's cool and rough against my wet feet. I sink my board into the sand with a satisfying thud, then sit to watch the ocean. I know that today was special. I spent the day in liquid nature, the majestic ocean blue.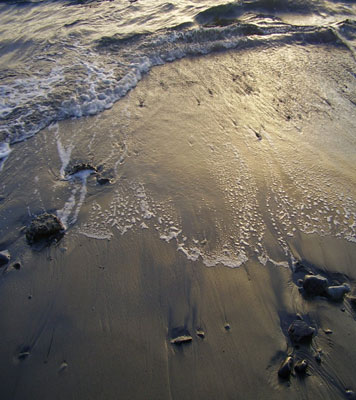 © Tori W., Victoria, BC, Canada