'Ode to Divorce' on a Friday Afternoon
December 8, 2012
I have the piano room all to myself today. It's 4:30 on a Friday, no one is at school, even the teachers have better places to be. Right now all I want is this piano. Every other day I practice on the discarded piano outside the music hall that has multiple broken keys, four of which are crucial to the song. I don't which ones they are, I don't really play the piano. I memorized this because I had to. I only know black from white keys, and that the letters repeat so that if one key does not work perhaps I can go to the identical one in the next set. That piano is only for practice, this piano is where I actually play.

At first it is strange. The keys are smooth plastic, not the cracked porcelain of my heap of junk in the hallway. They don't stick either, and so I am liberated of that awful sound of pulled gum that follows every note Monday-Thursday. The piano is in tune and thus in discord with the sound I am used to producing. I struggle to keep my pace even, it is so easy to let fingers fly on this perfect sheet of pearl.

My first attempt is absurd. I hit the notes at first, but it comes too fast and too perfect, all mechanical. When it is mechanical I cannot hear myself singing in my head, and by the second verse I lose my place in the repetitive melody. I am too close to happy just to sit in this real room at this functional piano.

I look at the seats scattered about the room as is to be expected of a music class. They are uncomfortable black chairs are not really important since no vocal teachers want her students sitting. Then he is there, in that chair just behind the piano. He is looking intently at me, he's paying attention for once. He may be looking at me, but he is also thinking about her. She is just outside the classroom, waiting patiently as he completes the chore that is me. I am the chore, she is the reward. Without shifting my gaze, I begin to play.

I no longer think about the tempo, it is weighed down by the knowledge that I am the chore. I want him here as long as possible. I glance at the key my left hand has to jump to. The intro finishes.

"The food that I'm eating is suddenly tasteless.
I know I'm alone now, I know what is tastes like."

shift to sharp key.

"So break me to small parts, let go in small doses.
But spare some for spare parts, there might be some good ones."

My favorite key comes in, the only one I know, a b sharp.

"Like you might make a dollar," a secret, "I'm inside your mouth now,"

and here I feel her behind me, peering in through the doorway as I play.

"Behind your tonsils, peeking over your molars.
You're talking to her now. You've eaten something minty
and you're making that face that I like
and you're going in in for the kill kill
for the killer kiss kiss for the kiss."

It hurts, it really hurts, but anger makes the feeling muddy a bit. This bit of the song is hard to keep time with. It's angry but it's not fast. It's still beautiful.

"I need your money, it'll help me
I need your car and I need your love." another secret.

"So won't you help a brother out?"

He needs to understand that he has to stop. He has to stop putting pictures of them in my field of vision and listening to music she recommended. This one last time I need him to help me, help me get past them. It's indescribable to suddenly lose someone you thought would always be there. It's hardly bearable the feeling you experience watching them find what you wanted for the two of you with someone else. To be confronted with both at once is indescribably unbearable, and yet this song does just that. Then it repeats.

People ask me why I play so often. I tell them different things, that I want to re-learn the piano and it seemed an easy enough piece, that I cannot practice at home, that I love the artist. All these are true, but I play because it is the one time I am supposed to, that I must feel sad. If I don't, it doesn't work. During the day there are times I have to rush to the piano so that there is a reason for me to feel this stifling sadness that suffocates me all the time, to see him when I still mistake others for one who was once mine. I need to make all this horror beautiful somehow.

When people ask I try not to tell them the title because then they know it's sad. They grow concerned and I have to pretend I don't need them to be. If they don't know and I don't sing out loud, all they hear is the gentle string of sounds that repeat on their ears in identical sound waves, soft, familiar, and soothing. Maybe eventually that's all I will hear too.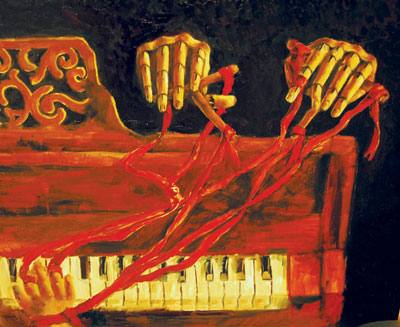 © Bonnie S., Fremont, CA