My Journey to Writerdom
December 5, 2012
I started my writing journey when I was very young, and some of my earliest memories include writing in crayon at my Grandma's house, all about unicorns and elves. My first real story was published in the school magazine when I was ten, and I grew it from there. Since then, I have written every day, and I post chapters on the Internet almost every evening. I was lucky enough to go to New York with Teen Ink in 2010, when I was fourteen, which developed my writing so, so much. Since then, I published my first novel at sixteen through Booktango, an e-book self-publishing company. 'Secret Genius' is my baby, and I love it, although I have become a better writer since publishing it. Marketing has been difficult, and I haven't had the time due to school and wanting to get on with writing, but basically running a business selling one product, my novel, has been fantastic, from a personal and monetary point of view. Since publishing 'Secret Genius', I have been writing a lot of fanfiction, especially for House MD and Sherlock Holmes. This has been a welcome break from writing for money, and I have been able to stretch myself coming up with plot rather than character, which is my strength.

When I tell the story of the 9 consecutive hours I spent feverishly typing the last chapters of my novel, people often look at me with a mixture of fear and wonder. How does she concentrate for that long? Why bother? There's much better stuff to do with your time. Like watching TV, going on Facebook, and spending time in the mysterious world of 'outside'. But no. I closet myself away in my too-hot-in-summer-too-cold-in-winter study and lose myself in the world I have created for myself and written down for my family and friends. The first draft, looking back, was painful. The second was only marginally better. The third was significantly worse. By the final, eleventh draft, my parents were sick of me going on about it, my friends were annoyed at all the times I'd stood them up in favour of a fairy tale. But I'd done it. The pleasingly heavy manuscript was on my desk. The pride was inescapable. There's nothing to beat it.

People ask me why. The only answer I can give is that I can't stop. I'm hooked. Hooked on the rush that comes when I get a character's words right. Hooked on the exhilaration when I write that scene that was bursting the edges of my mind. I do it to leave behind a footprint of who I am. I do it because if I stopped, I would not be able to function. Sure, I could do with more sleep. I could do with more exercise. I could do with more time in the day. But we can't have everything. And I'd rather have this.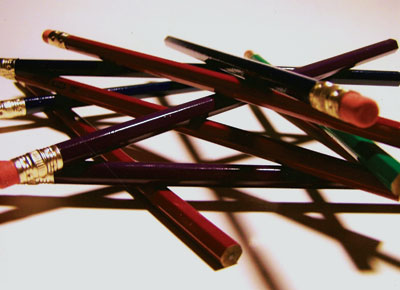 © Nicholas K., Weldon Spring, MO