Expected to Win
November 30, 2012
The teams scouted each other out. They're looking for the best player, watching for the weakness, and who to serve. The first person everyone looks to is the big guy, the one who stands above the rest. That guy is Eric, and that's me.
As the warm-ups continued, my presence became widely known. I was spiking hard, passing well, and serving accurately. And the game hadn't even started yet. My face was emotionless, and my eyes were focused on the ball. The only thing in my mind was volleyball, and how to win. The game was taking us to the volleyball national's championship. I'm expected to dominate the court, expected to carry my team, and expected to win.

I've been the one to score points, get loud, and keep the momentum on our side. And the expectations remained the same now. Being 6'3'' and having the vertical to get around any block, the other team can't stop me. I need to dominate the court—I need to lead the team to a victory.

The game went on for over an hour. Two great teams fought back and forth. The game naturally came down to a serve. It's the hardest thing to do in a game. With my heart pounded like a jackhammer—and with all eyes focused on me, I launched the ball to the air. This serve needed to be inbounds, and the game was in my control.
As soon as my hand hit the ball, I could just feel it. Perfection, greatness, success. The other team tried to pass it, but the ball went flying backwards and hit the ground. Two thoughts went through my mind faster than my teammates could run over to me: I did it! I won the game!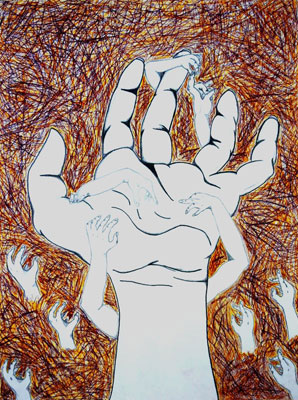 © Ariana R., New Orleans, LA