Little Things, Big Word
October 29, 2012
There is little things you never thought of, everyday happening, just never noticed. That girl that gets hit at home, the guy who lost a long distance girlfriend. Things that no one talks about, no one hears about, the tiny things that happen and you don't know about. Another thing you never think about is all the people around the world.

Think about how many millions of people there is in this world. Think about all the different people out there. If you think, more than likely there is more than one person that shares the same birthday as you, has the same facial features as you, thinks the same way as you, almost anything you can think of. But you also have one thing, one unique thing that you may not know about, that you may not think about, something no one may know about, that makes you, you. Something that no one else has, no one else can do, the one thing that makes you the only you that has ever lived.

What you also don't think about is that everything you do, maybe its write a story, or change your clothes, everything you do, someone else in this world is doing the same thing. At the same moment you say hi to our friend, someone around the world is saying that same word to someone. When you ask your friend to go to a movie, someone else just asked their friend to go to the same movie.

It is weird how our large world works, with so many different people and so many different thoughts, yet that are similar in their own ways. So many things that happen every day that never get any attention, so many things people worry about. Life is complicated, as complicated as this big world. Our world is ours though, it is as individual as the people that live on it. As the world grows as a whole so does every person on it, whether they grow smarter, stronger, more talented, anything. We all grow to make the huge steps in life, to accomplish the baby steps that are needed to get to where we want to go. But most of all, everyones life is different. Every person is different, and thats the way it will always be.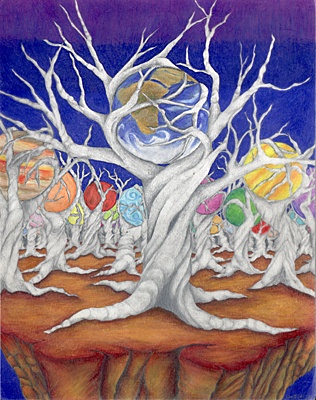 © Sara P., Lake Mary, FL