Saying Goodbye
October 9, 2012
2 years have passed so quickly. It's a blur to think of all that has happened. 2 years ago thing had been normal; my family was whole, my life was normal, I was happy. And now I stand out in this field looking at the sun dipping behind the clouds. I feel like such an idiot talking to myself, but after all that has happened it seemed like it was almost normal.

I remember when I was small when my grandmother would come to visit. I can remember how we would always play "Yahtzee!" and how we would go for walks around my neighborhood. Even how she would give me money to take naps with her after her long flights in to town. I remember going to her house every year. We would sit in front of her house and eat an entire bag of cherries. I can still hear the Susan Boyle CD that she would play on a loop while we swam at her pool.

I had so many memories of her, but I couldn't help but say them out loud, only to myself. Everyone was inside watching TV or talking, but I couldn't help but stand on my own out in the field. And I certainly couldn't help the tears that streamed down my face. But I kept saying my memories aloud, thinking someone was listening to them.

I told myself about the time we watched "7 Pounds" together, how she had made me stand in the garage when Will Smith and his lady friend got too friendly. There was the time that we rode behind my grandpa's ATV on sleds while it snowed, while my grandma stood at the house too scared that we'd get hurt.

I especially remember when things went bad. I thought back to when my parents explained to me that my grandmother had gotten cancer, leaving her with only 2 more years to live. We were all there for her. We would go over every weekend watching her slowly slip away. Her hair went along with her strength; we watched the chemo slowly make her weaker and weaker.

I looked at my shirt, with the simple blue ribbon on it. The ribbon for cervical cancer, and I could even read, "I wear for my grandma" through the blur of my tears. We'd made them when my uncle ran his first marathon, dedicating it to her. The tears made little dots in the dirt around my shoes.

I could hear the distant voices behind me, drifting out through an open window. But I kept talking anyway. The sun already sank behind the horizon making the sky a light red. All these stories kept flooding out, and I watched the sky darken until the stars began to come out. My eyes dried. I walked back to the house.

I stopped and took one last look, the two little holes where my feet had been made me smile. I stood there for a moment, the numbness I'd felt standing that whole time slowly slipping away. I could breath normally again so I took a deep breath. Finally realizing how cold it was, I decided to head back. I stopped again for only a moment.
"Thanks for listening grandma." I turned and joined everyone in the warmth of the house.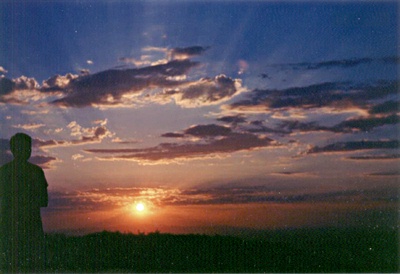 © Jovee B., Dededo, Guam