Home Away From Home
October 22, 2012
Home Away From Home
The van is packed with everything including suitcases, kitchen appliances, and a blow up mattress. We are flying down the highway with the windows down, wind blowing in our faces; and we are counting down the seconds until we get there. We pass by all the little restaurants and family-owned businesses in the center of town that we always go to on those cold and crummy days. We can see the yellow-white sand and the white-capped, blue-green sea behind a series of little, old cottages. We pull into the seashell and gravel parking lot of our little beach house on the sand we love so much and immediately smell the salty sea air of the Atlantic Ocean. We cannot wait for our long stay at White Horse Beach and all of the adventures to come.

If you look at the cottage head on, you might think it is a little small to hold four people. It is an A frame house that is really narrow but goes very far back. On all four sides is deep wood paneling that looks as if it drifted out of the ocean years ago. Just outside of the front door is one of the biggest decks I have ever seen that is made entirely of wood as well; that's why we cannot walk barefoot on it, or else are guaranteed to get a splinter. The backyard is just sand with a creaky, wooden boardwalk cutting straight through the middle. The boardwalk then goes to the stairs that lead to the beach. I am always uneasy about these stairs on the account that they are off balanced and could go at any minute. The cottages are all clustered with one another, divided by boardwalks that look like alleyways but for the beach. At first this was somewhat annoying, because we thought we'd never have any privacy, but now I like the setup because we have made friends with all the people, like us, who rent one of these cottages every year, and it is nice to be close.

I walk in the front door with my arms full of everything imaginable. I see the old fashioned, run-down kitchen and the living room just beyond that, with all of the typical sea themed knick-knacks and picture frames. I walk down the hall and to the right to the room that I stay in, which is quite large with a set of squeaky, wooden bunk beds and a burrow that is half mine. My sister walks in next and, within three minutes, the place is cluttered with clothes, things for hair, make-up, and anything you would find in a girl's bedroom; I'll just keep my stuff in my duffle bag, I think to myself. Just next to my room is the bedroom my Nonni stays in. It complements the sea themed living room, with its ocean pictures and oak walls. Already, it is about ninety-five degrees out, so I go upstairs to my mom's bedroom, which is the only bedroom on the second floor, and the only room with an air conditioner, so I can cool off. After a long day of unpacking, cleaning, and grocery shopping, I look forward to the next day when I can finally go to the beach and just relax.

Somehow during the summer, no matter how late I fall asleep, I always wake up as if I am going to school. It is like my body is on some type of school clock for the rest of my life. So I am up bright and early and cannot wait to get the day started. For breakfast we always have really amazing food like pancakes, waffles, bacon, or French toast, whose aromas fill the cottage with those sugary, fatty, intoxicating breakfast smells. We do not usually eat like this at home; it must be the beach air that makes everyone so hungry. I put my Hawaiian bathing suit on and spray myself with that uncomfortable can sunscreen and lug chairs, a cooler, a canopy, and rings down to our spot on the beach, where we will spend our day.

I get off the stairs and feel the grainy plush sand between my toes. I inch my way to the spot we have claimed as ours for the eleven years we have been going to White Horse Beach and I throw everything I have down on the sand. I run to the water to see what the temperature is like and, of course, the Cape Cod waters are freezing! My sister and I grab our rings and dive into the water anyways. It is like swimming in a pool of ice at first, but then you get used to it when you go numb and lose all feeling in your body. After riding the swells that engulf the shore as they crash down upon it and swimming until we are out of breath, it feels nice to sit on the hot sand under the scorching sun. I eat my usual lunch consisting of a turkey and cheese sandwich and some goldfish and then try to figure out what to do next. My sister and I might try to see who can dig the deepest hole, which never ends up happening because we always make the other's collapse, or we sit on the blazing, shiny, black and grey rocks at the top of the beach that burn your skin where they touch it.

As the day turns into evening, we drag ourselves back to the cottage after a long day in the sun. We all are anticipating dinner because we are heading to our favorite place in Plymouth Red Robin for a bite to eat. I open the big red doors with the letter R engraved in the handle and immediately smell the greasy fries and succulent hamburgers. The place is filled with balloons, kid's birthday parties, and big red birds. As always, I order a medium well cheeseburger with pickles, mustard and ketchup, and a side of fries with their spicy, flavorful seasoning. Dessert is next, with a wide variety to choose from. I end up choosing my favorite, as always, which is a smooth chocolaty brownie. I bite into the chunky goodness and then eat the rest as fast as I can. After dessert, we go back to the van and spring it to life with the keys in the ignition. The drive back to the cottage is usually pretty quiet due to our full stomachs.

As the day comes to a close, I cannot wait for the month I have ahead of me and all of the adventures to come. Going to the beach everyday, going out to dinner, and just relaxing are how I love to spend my vacations, especially when I get to do all those fun activities with my family. White Horse Beach is, by far, my favorite place to be with its old cottages, friendly people, great food, and fun in the sun that I get to experience every year for a whole month. I could not think of any other place I would rather be.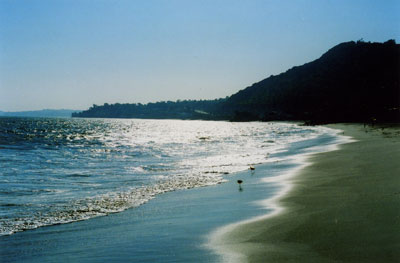 © Adam L., Washington, DC