how i learned to read
October 13, 2012
The Dance
Margaret Horvat
10/2/12

I walked up to the library and headed up the big steps that I thought trolls lived under. As I walked up the troll-infested steps, my nose started to drip onto my scarf and I looked all bundled up in my coat, hat, mittens, and boots. There was a big snowstorm last night and it was cold and icy. When I walked into the building I looked up at the high dome ceiling and took my mittens off and searched for the warmth of my Mom's hand. She led me down the stairs, through the hallway with books along each wall. When we got there I hung up my coat on the hooks short enough for me to reach, and my Mom told me she would be in the grown up section. My sister disappeared. I walked into the kid's section.
I instantly felt older among its high walls of books surrounding the shorter ones with the pictures books. There was Dr. Seuss, Goldilocks and the Three Bears, Winnie the Pooh, Harry the Dirty Dog, Olivia, Where the Wild Things Are, Little House on the Prairie, and so many others that I loved. I walked up to library desk. I could barely could see over the counter. When I did I saw the same smiling librarian and her bouncy red curls. I smiled as handed her Babar with its shiny red cover and perfect binding. I was the first one to check it out. Next I went to a slightly taller bookshelf that was over near the graphic novels in the corner, and grabbed the stool and reached for the top most book, Sleeping Bunny. Then I headed straight to the beanbag corner.
I open the book and "read." I have memorized the book already from the hundreds of times my family has read it to me. Nevertheless, I am enraptured. I am magically transformed into whatever mammal I was most fascinated with at the time. I gently float down into the pages and I am in the land of dancing bunnies, daring badgers and evil rats. As I slowly flip silently over the pages I am in awe of the beautiful pictures that seemed to dance and swirl as my eyes scanned over the page. As the book came to an end and I turned the last page I could swear I heard sleeping bunny and her prince charming. Their soft voices where beckoning me back for another dance in their world.
As I got older I still loved to "read" and when I was five and four days I started kindergarten. I was a little young and real reading was a big challenge. Not to mention I had my friend tie my shoes for me. In first grade, I changed schools and reading became even more of a chore. The words on the pages just sat there while the pictures swirled with meaning and creativity creating the wonderful dance. Then in second grade, I changed schools again. This time I was supposed to read books with fewer and fewer pictures. While the rest of the class moved to Nate the Great I was still stuck at Mr. Putter and Tabby.
In third grade I stopped trying and the 15 minutes a day my Dad sat me down to read was hated by my entire family. I would yell every time I got a word wrong and he corrected me. I basically gave up and went back to picture books. Not little kid books, books like graphic novels and world record books. I "read" those books where the pictures swirled and danced making the meaning become clear.


Then I came to GA. I did third grade again, not because I was stupid, but because I was not old enough. Remember, I was five a four days when I started kindergarten. When I got there we had SSR (silent, sustained, reading) every day and I read Nate the Great and the Monster Mess every day. With it's dog-eared pages and bending spine the book seemed to be saying to me, "Read a new one, I'm tired." Every time I took it out I could not help but to smell it. It smelled like a library with dust and old books. It made me remember those thousands of days I spent in the library with my mother and sister. With the pages all crinkled I moved my finger across them trying to decifer the words one by one. I really did not mind not reading well except when it came time to partner up and read a chapter. I was embarrassed that I stumbled over words when my partner's reading was perfect. Then I went into a program called Wilson that teaches you how to read. It taught me to tap out each word out and slow down. Slowly the pictures had new dance partners, words that made sense and in this swirling, twirling dance I began to read. Now, when I turn to the last page of a book it sings with the harmony of reading and drawing, together they beckon me back for another dance.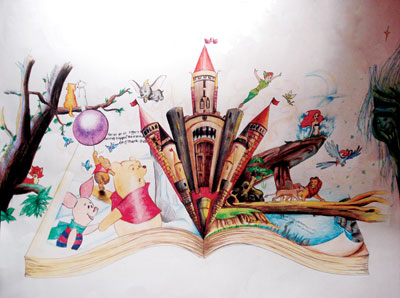 © Shirley L., Chino Hills, CA