The Escape from the World
October 15, 2012
On April 1, 2011, I stepped into music school for the first time, with a student clarinet in one hand, and hope that the nagging voice in my head that told me I needed to do something important would finally sense it was no longer needed and would retire in silence, in the other hand.

A year and four months later, that voice has now turned into a critic that every time I sit down and practice, tells me that it's a worthless effort and to give up. I ignore it however, and continue to play on. There are frustrating times when nothing in a practice session seems to go the right way, when not one piece of music seems to click in my mind and come out of the end of my horn perfectly, but I try to push through these times and move onto better ones.

There was once a time when I could not stand up on my feet and take even the tiniest of steps. Though this time has now passed me by, I remember with clear distinction that the one thing I wanted to do most, beside standing up and taking that step, was to play my clarinet, to attend my lesson every week, to do something so normal to me that I could forget about everything else going on around me and inside me.

I still feel that way, at times. Wishing I could vanish behind my horn and forget about all else. At my lesson, this happens. My lessons each week provide a sense of hope and fulfillment, that if I didn't have lessons, I probably would not be where I am in my life today.

Practicing taught me perseverance. Taking a rest from music, or in music, taught me patience. Music itself brings me an escape from the world, if only for a while. Music lessonsf helped me realize a dream. I never would be playing music if it weren't for music lessons.

"One good thing about music, when it hits you, you feel no pain."

Bob Marley said this, it took me a year, but I've finally found the one thing that can keep my mind off the physical pain, maybe I'll even use my talent to heal people someday, but for now, learning music helps heal me, and for that, I thank everyone.

No matter how many challenges I face, music will always be there for me. And with music, comes the passion that will last for a life time, and a way to speak my mind without saying anything. Music takes over where words leave off. Thank you, music lessons, for giving me a voice.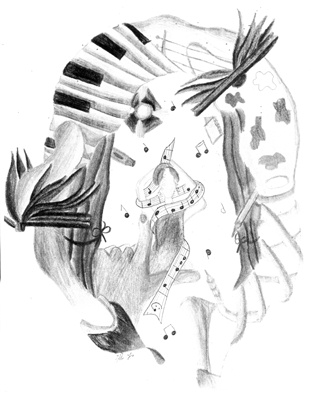 © Kelly L., Brooklyn, NY