4 Greatest Lessons
September 30, 2012
My freshman year of high school brought many more changes than I was prepared for and with that much more stress. But I've always been a very independent person so I thought that I would be able to handle things on my own so I didn't ever let on to how much I was struggling. I started high school swim team that winter on top of club swimming for my town. I practiced every morning at 5:30 am then got out at 6:40 to go to church class at 7 then I would go to school and go back to swimming that afternoon. On average I was swimming more than 20 hours a week plus schoolwork and church obligations. I don't know what was the point that was too much but there was a point when suddenly I couldn't hold myself together anymore. That winter I started getting really depressed. But I hid it well from my family and friends apparently. I hated swimming and I think that's where most of the stress came from. The girls were mean and the coach was awful. They would say things like "if you were skinnier like me maybe you would be able to swim faster" or "well obviously you never win because you're Mormon and that's just based on lies. You can't win off of lies." I'm embarrassed to say that I didn't try to defend myself or my religion. I guess I was too weak to do that at that point. But the little things they said drove me deeper into darkness. Lesson one, just as little things can change someone's life for the good, they can also devastatingly change it for the worse. The little things they said, their little digs, broke me more and more. By the middle of my sophomore year, I was contemplating suicide. I honestly don't know if it was serious contemplation or not but it was contemplation nonetheless. I was to the point where I wanted to die, and I believed that I was ready to do so. How does someone even get to that point? I'm scared because I don't know the answer to that question. Even at my lowest point, I refused to tell anyone I was struggling. I wanted to handle it by myself. I was embarrassed to tell anyone what I was feeling. I was nervous that I would get a reaction that would hurt me even more. I cried pretty much every single night for two years because I felt so horrible about myself and I felt so alone. My depression affected every aspect of my life. I would get up in the morning and look in the mirror and think "That is the ugliest thing I have ever seen." And so along with my mental issues, I started to develop other problems but I still never told anyone and no one ever sensed anything was the matter. You hear all the time about teenagers who commit suicide and their parents say they never even knew they had a problem. That could have easily been me. I was there, that low. Fortunately, one day I came across a scripture in the Book of Mormon. Mosiah 24:14- And I will also ease the burdens which are put upon your shoulders, that even you cannot feel them upon your backs, even while you are in bondage; and this will I do that ye may stand as witnesses for me hereafter, and that ye may know of a surety that I, the Lord God, do visit my people in their afflictions.
That got me thinking about the loneliness I felt. What if I wasn't and hadn't been as alone as I had thought? That brought me to the poem "Footsteps in the Sand" by Mary Stevenson.
One night I dreamed I was walking along the beach with the Lord.
Many scenes from my life flashed across the sky.
In each scene I noticed footprints in the sand.
Sometimes there were two sets of footprints,
Other times there were one set of footprints.
That bothered me because I noticed
That during the low periods of my life,
When I was suffering from anguish, sorrow or defeat,
I could see only one set of footprints.
So I said to the Lord,
"You promised me Lord,
That if I followed you,
You would walk with me always.
But I have noticed that during
The most trying periods of my life
There have only been one set of footprints in the sand.
Why, when I needed you most,
You have not been there for me?"
The Lord replied,
"The times when you have
Seen only one set of footprints,
Is when I carried you."

Many times I had asked the very same question of the Lord. Why, when I needed him most, did I feel like he had not been there for me? His answer was simple. I had never been alone, he had never left me, and I had no reason to feel like he had. When I was able to realize this, I was able to pull myself out. I saw the light that Christ offered me and I grasped on to it. He had always been there and he promised to continue being there for me. He had already done the hard part and he had felt every single feeling that I had felt during those 2 long years. I never told anyone how bad it got until now, but he always knew. Lesson two, it's good to be strong, but there are just some things that you can't do on your own. I should have asked for help. There was no need to be so stubborn to keep my feelings hidden just to avoid embarrassment. What did I have to be embarrassed of anyway? I had a problem that I needed help with. Everyone has problems. Lesson three, problems are normal. Never be ashamed to seek the help that you need whether it be from a friend or a parent or a teacher. That is something I wish I would have known long before I finally figured it out.

I'm finally to a point where I go weeks without any of the feelings I used to have every day. The thing is, I know that I won't ever be completely over it. That's just going to be one of my trials in this life. Just as a professor at Brigham Young University counseled the students during a university devotional, maybe the trial isn't to overcome, but to get up after you fall. That's what I try to do every day. Try to get up after my 2 year free fall. I may not always know the best way to get back up, but the point is to keep trying. Final lesson, lesson four, if something really matters to you, you won't ever give up because you will always have the support of Jesus Christ and Heavenly Father. I know that now.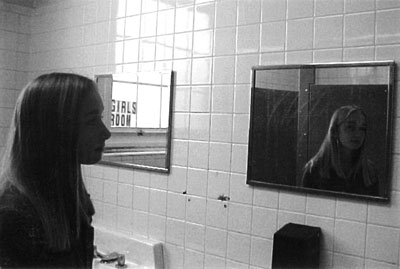 © Jill H., Pompton Plains, NJ