The Miraculous Part of Life
September 22, 2012
How true is the following statement? 'To a child's ear 'mother' is magic in any language.' Since the day I opened my eyes, and was welcomed to this breath-taking world; my mother has been my support, my life, my foundation. My every tear scrapes her heart. My every joy is all she desires. The presence of her irreplaceable soul always manages to guide me- even through my darkest nights (there have been many).
Acknowledging the loss of my father, with me being only nine years old; my mother encouraged me to stay strong. Through those grievous days my mum had been a comforting cushion on which I would lay upon, wiping away my tears. No matter how disheartened she was, she did no express her feelings in front of me. Her consideration for me was remarkable.
Challenges in my life have been demolished with a mother as affectionate and tender as mine. She treasures my every joy within her heart; as if a precious, unique piece of gold. For every step I take in life my mother is my inspiration; and all I need to succeed. She is my key to success! Her every action makes me a better person.
Her thoughts about giving me a better education shines through my achievements throughout academic years. Her taking out time for me makes me feel that I have someone by my shoulder that I can talk to. She always gives me hope by saying… there is 'light at the end of a tunnel.' I carry this statement with me and consider it daily. My mother and I are known to have an unbreakable bond. I believe that the key ingredient for our fruitful relationship is honesty and trust.
According to the Concise Edition English Dictionary the word 'mother' is a 'female who has given birth to offspring' in my eyes this is difficult to digest as I feel that anyone can project a motherly attitude. Much like the epic tales of Lord Krishna who was raised by a woman named Yashoda even though his biological mother was Devaki. The definition provided in the dictionary doesn't fit around the concreted meaning of 'mother'.
I feel that I too am playing the role of a mother, by dedicating my time to my younger sister. I have been guiding her from the day she was born, watching over her while she sleeps, and capturing her cute, adorable and naughty moments.
The true definition of a 'mother' is slowly dissolving in today's climate- parents and children are finding it more and more difficult to devote time to one another. A mother doesn't necessarily have to be female, what about the role a single father who is raising his children? What do his circumstances make him? He is not only playing the role of a father but also the role of a mother.
The thought that 'heaven lies under the feet of your mother' is now floating alone on the moon. I hope that children appreciate their mothers for being mothers and reunite with this statement.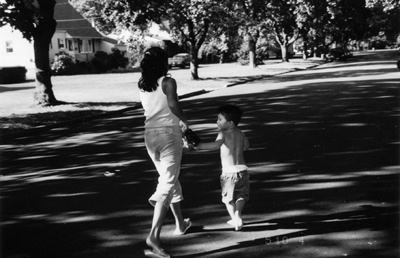 © Angelica M. Pequannock, NJ