kindness
September 19, 2012
To help people who are in need its called charity, but I rather use kindness. An example is one time I have done charity which seems to stick with me was around Christmas time. I remember the cold snow on my face as I was waiting for the bus ride, but couldn't stop thinking of how I dressed up as Santa and seeing the faces of those kids grinning with big smiles. So being dressed up for 5 hours for two days and, yet only one guy with his kid said "Thanks". That thanks was the nicest thing that happen that night, because he was he only one. So, I felt a bit relieved and happy else said "Thanks", but to see the others smile was the best.

Furthermore, a piece of medical history was in WW2 which also changed how I looked at things. When Britain was in need of blood for patients, the Red Cross wanted people to donate blood. The U.S gave large amounts of blood to help someone in need. So I asked "why help" and then I thought that you can help someone half away across the world and not even know them. So, giving a helping hand to someone can even change a life, out of a simple act of kindness.

So, from that moment on, I thought to myself that kindness should be extended to all even to strangers.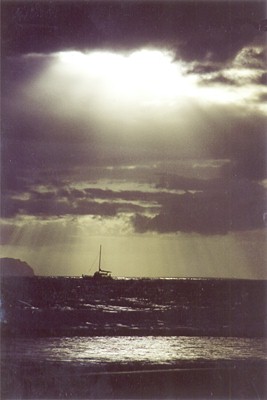 © Lily H., Kekaha, HI