Patience Is A Virtue
September 13, 2012
Most people have someone in their life who they look up to or admire. It may be a famous actor, author, or an inspirational celebrity. Chris Colfer is all three of these to me, and he is probably one of the biggest influences in my life.

Chris Colfer had a really tough childhood and his life goal was to get out of his town and make a name for himself. Chris is now a two-time Emmy nominee, a Golden Globe winner for his role on Glee, one of Time Magazine's 100 Most Influential People, and now a #1 New York Times Best Selling Author. It was my life goal just to meet him. He's toured the world with his fellow Glee cast members, he's done meet and greets, and numerous signings. Every time I would get so disappointed when my parents wouldn't surprise me with tickets or drive me across the country to see him. Eventually I realized that I couldn't just sit around and wait for it to happen, I had to work my butt off and make it happen.

In July of 2012, Chris released his first novel and announced he would be doing a book signing tour during that month. The signing dates and locations were to be revealed and I waited beside my computer for 24 hours. When they were finally released, I learned that the closest he would be to Iowa was Chicago. My parents still weren't quite convinced to take me so I did a ton of research - finding hotels in the area, cheap restaurants, and low-cost activities. I spent countless hours trying to find as much information as possible on the book store and the signing. My parents finally gave in.

Nevertheless, there's always a catch. Yes, my parents agreed to drive me to Chicago, but the big problem we were facing was the fact that only 300 fans were allowed inside to meet him and it was first-come first-serve. So just because I was finally in Chicago and was only an eight minute walk from where he would be, that still did not guarantee that I would get inside and fulfill my mission.

"It's going to be like the Hunger Games trying to get in," I said to my brother who would be fighting the crowd with me.

"I'll only feel bad for the first two people I push down." Jeff said.

My father advised us seriously, "Whatever happens in there, this is the most important thing to remember: don't fall down."

At that point, I was a little bit scared for my life but I was as prepared as I would ever be. That morning, I made Jeff wake up at 4:00 to walk there with me and get a good spot in line. We got there at 5:00am and were numbers 30 and 31. We were guaranteed a spot. So now we wait.

Jeff and I waited outside in the July heat for hours. In this line we grew pretty close to the girls around us. There was a group of us four girls plus Jeff. People tend to bond when they spend 8 hours in a line together on a sidewalk in downtown Chicago without eating, sleeping, going to the bathroom, and getting harassed by random civilians.

At 10:00, they started letting people in the doors in groups of 20, and we were escorted by fancy staff and security to buy the book. After purchasing the book we were escorted to another line. And the waiting game continued. The clock eventually struck 1 and the anxious fans - 300 strong - would be meeting their idol any minute now. Jeff, being the tallest, was the first to fangirl because he could see Chris over all the people. What happened then was insane. Shrill fangirl screaming erupted. Girls began sobbing and shaking. Jeff was extremely amused by all of this. Chris was standing in front posing for photographers and then he sat down in his signing chair. The line began to move and immediately my mind went blank. I couldn't remember any of what I had rehearsed to say to him for the past 3 months. The line was moving so fast and my emotions were all over the place. Jeff and I were finally up next. As we walked up, I grasped the sleeve of his shirt to make sure I wouldn't fall over.

"Hi, Sweetie!" Chris Colfer just talked to me. Say something!

"Hi," I remember saying. I then told him how his book came out on my birthday, I thanked him numerous times, and on impulse I added, "I love you so much!"

"Thank you, Sweetie!" He smiled at me. Chris Colfer knows of my existence. I started walking away completely shaking. There was a lady standing at the end of the line who was passing out gift bags to all of the fans. "Breathe!" She reminded me. The rest was all a blur.

One of the best feelings from this experience was realizing how much my dedication had paid off. When you want something to happen, you can't just beg and complain until it's handed to you. You need to put in the time and work to show how much you've earned it. It may not happen right away but if you're determined and contribute your effort it'll come eventually. This experience was everything I hoped it would be. I'm ready for Round 2.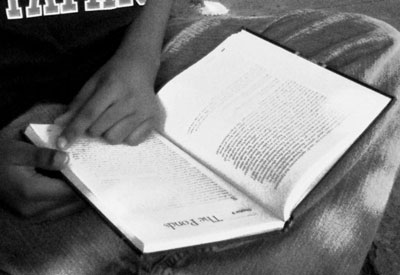 © Allan L., Plano, TX