Our Story
September 7, 2012
When I met you, I never thought I would fall in love with you. I met you December 30, 2011 at the roller rink. It was a Thursday, and I thought I was going on a date. I brought along my best friend, my brother, and his best friend because I didn't want to go alone. I knew he was inviting a friend, that I had never met, that was you.

When I first saw you and Brian, I really didn't think much of anything. I went and got my skates on, and noticed you didn't know how to roller-blade. We decided to sit down and get something to drink. Lindsay and I sat across from you and Brian. Brian decided to try and make Lindsay nervous by putting his arm around her. I was kind of jealous, until you started doing the same to me. It felt wrong and right at the same time. Lindsay and I decided to go skate again, and talk. We decided that if I kissed you, Lindsay would kiss Brian. We then sat down. Lindsay by Brian, me next to you. Lindsay then dared us to kiss. I tried to procrastinate but you kept putting your arm around me and pulling me towards you. We finally kissed, it was just a short peck. I then dared Lindsay to kiss Brian, but Brian said he wouldn't kiss someone 3 years younger than him. Brian then left to go hang out with some girls in short- shorts and tank tops.

After Brian dithed me- his date- to go hang out with some girls he had never met, and left me with his friend, whom I've never met before, I was in a bad mood. Lindsay then made us hold hands while skating. I was totally freaked out because you didn't know how to skate, and I did not want to fall. You fell twice while we skated. I felt bad, because I didn't know how to help you. Then we they were doing speed skate, so we had to get off the rink. We were standing up by the wall, next to the DJ. And Lindsay kept trying to get us to hold hands, but I just was annoyed and tired. While we were sitting down you asked what was wrong, because I was being quiet and distant. I told you I was just tired. During the couple's skate, my mom had come to pick me up, so I skated with Lucy, because neither of us were done skating. When we were leaving, I tried looking for you, so I could say bye, but I couldn't find you.

When I got home, I sent you a friend's request, and that was it. We never really talked, until I got a new phone. I was missing numbers, so I posted a status, asking for phone numbers, and you sent me a message on Facebook giving me your number saying if I was bored, then text you. I decided to text him every once in a while. We had a lot in common, and I was slowly creating a crush on you. In March, I decided to take the chance and tell you I liked you. You said it wouldn't work because we went to different schools. My heart fell in to many pieces. That night, I just stopped talking to you for a while, but then I couldn't take not talking to you, so I talked to you again. Somehow, the next day you said maybe it would work and that you liked me also.

You said you wanted to ask me out in person, so we were just talking about dating for a while. I invited you to one of my orchestra concerts, we saw each other there, and you put your arm around me, in front all my friends. Yet, you never asked me out. We were having a hard time being able to see each other, so you asked me out on April 1, 2012 around 9:30 pm. We then dated for 4 months, with very few arguments- I think we only ever had one.

I loved you, a lot. But you said that things were going stale, and that you didn't want to know this further down the road. I still like you a little. We didn't talk for a full week, which was hard for me. But now we talk like we did when we were together. I know I can't like you again, but please tell me, that our story is not over yet.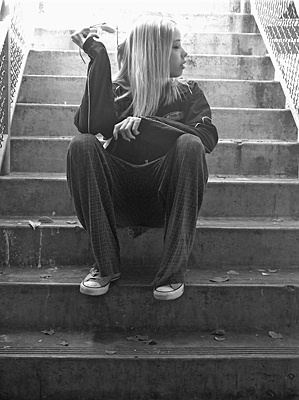 © James M, Walnut Creek, CA