A Very Special Treasure
September 5, 2012
I was walking along the grey narrow road with my mother. The sky was soft blue and white cotton sponges were spread all over the blue sea. The golden shiny face was playing hide and seek with the clouds. I moved very slowly, starring with curiosity at all the things around me. The sound of my steps mixed with the voices of the birds and formed a nice and original melody. By the road there were big fields of green grass and some big houses painted in white and beige tones. I was wearing a red coat and a pair of jeans. Although the sun was above our heads, caressing with its light the green fields, it was cold. My mother was wearing a nice blue coat and her short blond hair was waving and moving very softly. The wind caressed her cheeks and whispered secrets in her ears.

We passed by a small square with some benches and we got to a house with a big yard in the front part. I went towards the big silver gate and I took from my bucket the plastic bag I had been keeping as if it was a treasure. I opened it and with my tiny hand I took some of the corn flakes that were inside. Very carefully, I put my hand in one of the holes of the gate and I let the cereals fly and fall in the ground. The owners of that yard moved very quickly to get part of the golden treasure.

"Are you done?" asked my mother smiling and offering me her hand to continue the walk. I nodded and I took her hand. The chickens were still there, enjoying the yellow sea of cereals.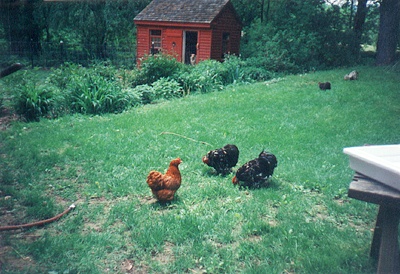 © Heather P., Germantown, NY