Who I Meet in the Restaurant
August 7, 2012
Many people came here for night snake and hang out with friends in the sticky summer night. They talked loudly while chewing food. They drank beer one bottle after another. They threw peanut shells on the floor. We choose an outside seat. A terrible big fan kept making noise endlessly.

After we sitting down, the waitress came, put the cups, bowls, plates, chopsticks heavily on the table, I can easily see the scratches on them under the light. Then she took out the memo paper and a pen from her pocket, wiped her hand on the oily pinafore which has dots of sauce on it.

She didn't even let us take a break and read the menu. Standing there impatiently, she kept stamping her left feet, murmuring. I could feel the angry light from her eyes, liked a hungry tiger will eat all of us in a second. We ordered the food, finished the meal as fast as we could. I believe, no body has appetite when those flies flew around with annoying sound.

It rains cats and dogs outside, probably the god spilled out his cup of water carelessly. I ran into a small cafe, put my umbrella in the bottle which stood at the front door, sat on the bar chair which under the dim light, the lamp cover which made of tinted glass looked like a rainbow.

"Oh, l love Jazz." I heard the man with combed hair and shiny shoes which can work as mirror said. He sat at the table near me with a young beautiful lady. "You do?" the lady giggled and covered her mouth under her hand.

Not surprisingly, the man started using all the nice words to describe his date mate. I ordered a piece of cake and a cup of coffee, enjoyed their interesting small talks. I betted he successfully got her heart finally, because the lady smiled liked a blooming pink rose, they hand in hand, got on a taxi, disappeared in the rain.

A young couple took their three children to this restaurant which I love to go with friends, because it provides amazing dessert. At first, kids came like three quiet, shy kittens followed their mom, sat down side by side and put their hands on the laps.

Before long, I realized that they were actually three devils covered by angel wings and endearing smiles. They taught me a lesson, do not judge people by their appearances, never.

"Mommy, I want ice-cream." "No, baby. You already had a cone." "I hate you!" Then one of the kids began crying miserably, tears kept dropping liked a waterfall. While the inexperienced mother comforted her boy, the girl dropped her plastic cup off the table, the juice made her white skirt wet. She cried even more heartbreakingly, that made her dad looked extremely tense and didn't know what to do. The third kid sat there peacefully with chocolate mustache around his mouth, seemed like just climbed up from the mud. Accompanying by kids' duet, we had an incredible meal.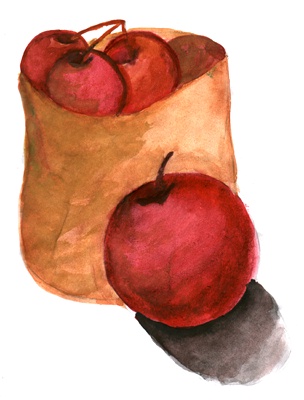 © HyunKyung L., Plymouth, MN