Balancing Act
July 28, 2012
This past year, as a high school junior, I had an endless amount of work and rarely had the chance to enjoy myself. Although I tried my best to make sure that once in awhile I set aside some time to do things that would give me pleasure, in the rush of things, it seems as if that rarely happened. Being that this was my first time going through a such a stressful and intense experience, my hope is that for the future, things will be different. In fact, I feel optimistic that going forward, I will make the effort to take advantage of some of the wonderful opportunities my life offers regardless of my day to day load, and to try to find joy in every single day.

I feel inspired just thinking about one moment in particular when I truly appreciated life. It was in March 2010, and I traveled to St. Martin for a family vacation. St. Martin is a sunny, beautiful island, and I had spent all day on the white sand beach, in the clear blue ocean, and in the fresh water pool with my family and friends. Everyone went up to the room to start showering at around six p.m., but not me. I decided to stay down at the beach alone. I wanted to enjoy the scenery for as long as I could. I got out my book to read, and lay down on my beach chair, with almost no one else in close proximity. In that one moment, everything felt just right. I can still remember the setting vividly. I lay on a comfy beach chair with a slight breeze flowing around me. The sun was setting, creating an idyllic mixture of blue, red, and orange in the horizon above the ocean. The rhythmic crash of the waves provided the perfect beat. The rustle of the palm trees in the wind was extremely soothing. I looked around at the nearly empty beach, and felt at peace. As I sat there, I felt blessed for my life and thankful for my family and circumstances. When it felt right to leave the beach and go up to my room, I walked slowly back to the hotel lobby, not thinking about much, just feeling lighter. I remember being satisfied. Once in my room, I went to the terrace and looked out on the ocean so that I could grasp the image in my mind, and hold onto it forever.

Thus, there are moments of bliss that I remember as time passes, and they are my reminders to take a break from work every now and then in order to appreciate the beauty and delight in life. My desire to attend an esteemed college, find a good job, and do something special in the world is considerable. This has driven me to work so hard this year, and push myself where others might not want to go. My dedication to my studies is real and important to me, but at the same time, I have learned that stopping to experience life is also essential for me to feel whole. This realization will inspire me, in the days ahead, to maintain a much more favorable balance of pleasure and work.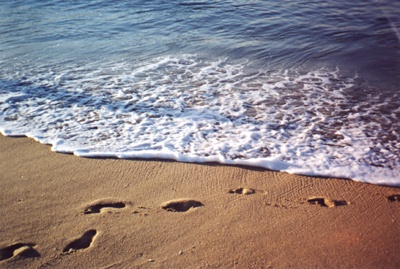 © Daniel M., Phoenix, AZ