Three Beautiful Words
July 19, 2012
The sky glittered; I could see every single bright, beautiful, silver star in the black open space that hovered over the small town. The air was not crisp nor was it humid, but perfect. Twenty-four hours ago, Aiden and I were dancing under the stars on the Husdon River, well, in a certain way. We enjoyed prom on a boat the previous night, a night that was so perfect because I got to share it with the best boyfriend in the world. Aiden and I had only been dating for four days, but we spent two months becoming completely crazy for one another. Aiden is the man any girl would want. Between his beautiful green eyes, gentle heart, and the way he looked into my eyes, no girl would ever want him to leave her alone.

It was 9 pm and Aiden and I were at the carnival as the ending to our after prom day that we spent together. Through the carnival games, I won a duck and we also rode to the top of the ferris wheel. After a good few hours, I knew that I would have to drive home I could get home by 10. I said goodbye to Aiden's family, and he walked me back to my car which was parked at his cousins' house.

We walked hand in hand, a ten minute walk to the car. Aiden and I reminisced about how we became a couple and when we discovered our feelings for one another. No night could be so perfect. Sadly, we approached my car before we knew it. Even though I knew I could be seeing Aiden soon, I was not sure how soon, soon would be. I gave Aiden a long hug and a kiss on the cheek. Even though it was sweet, I knew that I could not let him go back home without him and I sharing a real kiss.

Aiden went to get his skate board as I put my purse in my car. He came back to me for one last hug and when he did I whispered in his ear,
"Aiden, if I kissed you on the lips, would you freak out?"

"No," he replied with a sweet smile on his face.

I slowly leaned in, and my eyes went from looking into his to them becoming shut, and I eventually felt our lips pressed together. The world froze, peace swept through my body, and I did not want the moment to end. My heart was racing, but not out of nerves and I could feel myself smiling as I kissed him. Then I felt us pull apart and we hugged again. Suddenly, I felt the urge to kiss him a second time, except when I did, I felt his grip around my waist tighten as he pulled me in closer, and feeling that is something I will never forget. We hugged and kissed one last time and then I took off. It was only about 10 seconds, when I reached an intersection on the road and pulled over because my phone went off. When I flipped my phone open, I saw a text from Aiden that said "I love you :) " I felt so happy because I had wanted to drop it before hand but I was too scared he did not feel the same way.

I stared at the message with a smile on my face, and typed back, "I love you too."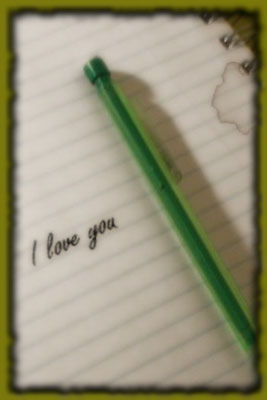 © Rebecca B., Marietta, GA