The Funeral of Firsts
June 14, 2012
A muffled cry. I stirred in my sleep.
"No! That's not possible! That can't happen! How? Why…?"
This loud exclamation woke me up from my sleep, and bleary-eyed, I watched my mother try to explain something to my father amid hysterical laughter. I was mistaken, though, she wasn't laughing. She was crying. That was the first time I ever saw my mother cry.

Arboreal silhouettes breezing by
Pointing the way home for the distressed daughter
Her own children lost in the ambience of innocence
Shed blood and tears; the pain of death
Still lost on the little beings of naivety
Now shall be the first encounter with grim reality.

Cries, wails and sobs took the place of the habitual sound of my mother's alarm clock. My eyes opened to reveal that I was in my grandparent's home in Ojla village, outside of Gakhar. Somnolent and disconcerted, I looked at Razia, our maid, who was playing with my three-year old brother, Adam. She explained that something terrible had happened, she wouldn't tell me what, and continued to say that I had slept in the car during the two-hour drive to Ojla village, and that it was in fact still the same day, as opposed to my preconceived notion. Unsatisfied with her explanation, I wracked my own mind to understand the situation, and then, I remembered my mother's strange phone conversation. It was incoherent, but I understood what had happened. Aunt Tanveer had died.

At the age of five, Aunt Tanveer's funeral was the first funeral I ever attended, or remembered attending. I always called her 'Tanveer maaso', and as I sat there brewing different emotions and struggling to understand them, I began to realise that I would never be able to talk to my 'maaso' again. She had disappeared to an unknown and unfathomable world that the grown-ups would call 'heaven'. Peering out of the window and staring at the various white-clad figures walking by the left bedroom window, I began to wonder if heaven really was as splendid a place as everyone claimed. If so, why did my mother cry at the news of her sister's death? Shouldn't she happy that Tanveer maaso is going to a magnificent place? The concept of death was beyond me; my mother had lost her sister, and I could not truly fathom what that meant. My contemplations were short-lived, as the sound of my brother crying woke me from the slumber of my disconnected thoughts.

Leaving Razia to handle Adam, like a ghost lost in the human world, I wandered the rooms and corridors of my grandparents' enormous and half-a-century old house. No building in the entire village could compare to this house, which my grandfather had built from scratch after saving enough money through sheer diligence and perseverance. However, its usual aura of dignity and grandeur, contrasted with natural simplicity, was replaced with a sense of loss and bewilderment. The gray cracks in some of the walls seemed more apparent to me now. The looming shadows at the end of the corridors seemed daunting, as I noticed them for the very first time. In this state of confusion, my sense of sound seemed to deceive me in every way. There would be an onset of deathly silence, followed immediately by the collective noise of creaking doors and wailing women. I was scared and alone, and I wanted to be with my mother. I was lost in the house, which I had always known to be my 'second home'.

A small group of old stout women attired in white came into view, and I decided to follow them. A few of them seemed vaguely familiar, while the others were complete strangers. They entered into my nano's (grandmother's) room, where several other women had assembled. My presence was acknowledged by a younger woman; she explained that she was Tanveer maaso's friend and I reciprocated the exchange of information by saying that I was Fizza's daughter. A sense of recognition flashed on her face, as she graced me with a smile, a sad smile, but a smile nonetheless. I felt more at ease in her presence. Turning my attention towards the garrulous women, who had encircled my nano, I tried to tune into their loud chatter. In fact their manner of talking reminded me of a local proverb: 'eating crows for breakfast', a task which apparently made someone quite voluble.

"It is quite a shame, truly. May Allah give this family patience to bear with this new calamity!" said one, which was immediately followed by an overall round of saying "Amen".

"The minute I heard what had happened, I immediately told my husband to bring me here, I only hope that I can be of some consolation to you, Bibi jee," said another.

"Indeed, indeed. Murder! To think something like that could happen to our beloved Tanveer!"

"And what about Zoyah! The poor girl will grow up without a mother! What a cruel fate, indeed! Oh Allah, please give her strength! Amen."
Murder? I was shocked to hear that word. My world of cartoons, fairy tales and play-dough could not accommodate the prospect of murder. That was a constituent of the forbidden world; a dark element only found in movies and sinister TV shows, or so I had previously thought. I again attuned myself to the chatter, but saw that everyone had been silenced by the expression on my nano's face. She was crying; and soon all the others broke down as well.

It was usually the adults who consoled me when I cried, whether they were strangers or people I knew, however, now it was the adults who were crying. Confused, bewildered and desperate to end the torrent of tears, I silently walked up to my nano and placed my hand in hers. The dim sunlight from the window gently fell on her wet and crest-fallen face. That was the first time I noticed how much she had aged, and how different her skin was from mine. She had prominent lines on forehead and under her eyes. They were soft but sad, and I felt like touching them to see if I could smooth them out. Her face was usually blooming like the flowers of Shershaw Park, where we would occasionally go, but today all that life and vigour seemed to have drained out. Her sparkling eyes were dimmed, as the black orbs stared at nothing, while small droplets of tears raced down her tan cheeks. I was, myself, close to tears and was angry at the women who had made her cry, but they were crying too, so no one was really to blame. My nano had lost her daughter; I did not fully understand what that meant, I was trapped and protected by my own naivety.

Nano, suddenly, opened her mouth, and everyone looked at her as she said:
"For sixteen years…for sixteen years Tanveer and Khalid had been trying to have children. They went to the most expensive doctors in Pakistan and abroad, and prayed day and night to be blessed with children. After sixteen years they finally had Zoyah. She had just turned one and now…now Tanveer's gone. They came in the morning today. The breakfast she was making was half-made; her shoes were turned topsy-turvy as she ran from them. They killed her. They killed her while Khalid was at work. And for what? Money? Jewellery? My daughter is gone, and her daughter has no mother. Allah help us all."
That was all she said before she slipped into her previous state of mental agitation.

Uncle Imtiaz suddenly rushed into the room and in one breath said:
"The post-mortem is done. She's here."
Before I could register what that meant, everyone bustled out of the room and my hand was gripped by Razia, who had come to send me back to the room where we were staying. As we went towards our room, I saw a few women sitting on a charpai (stringed bed), reciting the Quran, while adding their own passionately-spoken comments amid tears, to a crowd of teary-eyed women. My questioning look was answered by Razia:
"They're professionals. They're paid to make the atmosphere. I know, they go overboard, but that's their job."

"That doesn't make sense. Shouldn't they be trying to console the relatives instead of making them cry even more?" I asked.
"You're too young to understand." She said briefly and brushed the matter aside.

Inside our room, Razia tried to entertain us in every possible way, while maaso's funeral took place, however, I remained distracted. I wasn't sure how or when, but I drifted into a peaceful sleep, and the next day I was woken up by my mother at dawn. Life, strangely, seemed to go on as it was before, though several times I caught my mother crying when she said her prayers. However, this state of hypocritical peace was disrupted a month later by another piece of disturbing news. Uncle Khalid, Tanveer maaso's husband, had committed suicide; he had shot himself. Zoyah was left an orphan. I was not entirely sure what that meant; it was the first time I had heard the word "yateem" (orphan). It sounded complicated and alien. Razia tried to explain the situation by asking me to imagine what it would be like to not ever have my parents around; the thought was too frightening and I began to understand what it meant to be an orphan, though its true essence was still lost on me. Although, it seemed that my maaso's funeral did not have a profound affect on me, it did. My innocence had been scarred, as for the first time I realised what a dangerous place the world could be. However, it was a scar whose existence I was yet unable to register: my very first stamp of reality, and I wasn't even old enough to be aware of its presence.

A procession of wailing women, claiming to console
A loss of feeling; disillusionment.
A murder, a suicide, an orphan
A colour white, another red
A gun in hand: a bullet for two
A funeral of firsts: a scar for you.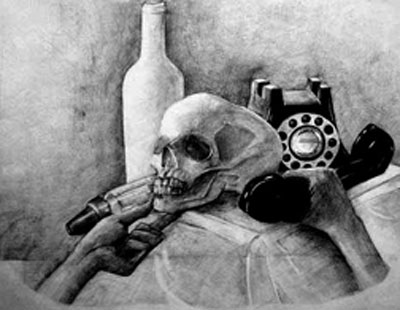 © Xiao H., Naperville, IL