All Alone
June 19, 2012
I know when I feel that sharp pierce in my stomach, my brain shuts down, my eyes wander in space, that I'm gone. Gone from the world and its contents. I'm unable to return, I just watch and see as my life unfolds before me, while I sit inside my body unable to reach out, I'm unable to ask for help. Not that I would if I could. I hear, but people's voices are muffled, murmuring. Almost as if I see and hear them through a glass panel.

They glance my way, a swipe of concern there for only a moment before they realized that they don't care enough to ask. I'm safe here, no one can hurt me like the way they can from out there. I would feel pain from their lack of love, but not from my cocoon. I try to come back in the conversation, but their murmurs never quite make it into words. I don't understand, so I don't try.

From this people just gather that I am ignoring them, just another reason for their minds to be mad at mine. In here, I don't care, they don't matter to me. Good friends will try and help, to solve the unsolvable. But soon they realize that I'm not actually there, my mind floating somewhere else, my body forcing out one word answers. It's when they leave without looking back when I realize that I am alone, in here, and out there.

I know I have to make it out of this haze, step out of the fog. Find them and apologize for leaving for a moment. But you don't get any warning, you get sucked in thinking about the paradise of just not thinking, not feeling. You do it even if you might only be able to stay for a moment. I couldn't have stopped myself if I tried. I'm alone, again. This is better than what I could have done with myself, fake smile, slightly off laugh, giving hugs with limp arms, it would have made people happier but they would know. There's no point in lying if everybody is in on the secret. To stay inside of me is the best thing, for everyone. No one understands that. One person did, but got up and left me like everyone else does at some point.

No one can handle this side of me forever.

When I get the feeling of tears rimming my eyes, a mini hiccup escaping my lips, I know. Its time for me to leave this paradise, too much emotion has made it into these walls, til next time. My mind starts up again, my eyes focus, I don't want to but I do. I don't have to, but I know, this place will always be here. Waiting.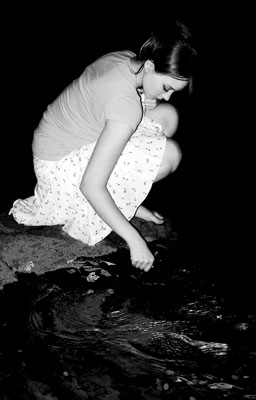 © Michelle B., Blairsville, GA