scattertab
June 19, 2012
My name was born of my fingers.

It's like this – I am a fast typist, the kind of girl who doesn't have to think about every little letter that flows into the words, an automatic and impulsive keyboard-clacker. My fingertips skim the keyboard, scattering the words into identical letters, even now, as I write, and quite possibly later, as you read.

I was born with words dancing inside me. I dragged around my mother's novels and squinted at road signs and trapped the words of my father's bedtime books in my memory, struggling to break the advanced code of shifting vowels and stubborn consonants. Of course, as soon as I could read, I could write.

I was the child who hated phonics and grammar, like "Johnny Can Spell" and the despicable "Shirley method" – not because words were hard for me, but because I knew everything already, if not by learning it in a classroom, than by reading and automatically mapping out the English syntax. I didn't need to be told where the words couldn't go because I knew where they should go. I didn't need the rules.

I was enthralled with e. e. cummings. As one teacher told me, "He knew the rules so well that he began to break them to give his writing some impact. That's why there's a little punch to it." The class stared at the board, glassy-eyed, but my acidic Sharpie was already out. I was writing "whichs turn in to whos, people become un" in my best cursive on my pencil bag.

Now I'm here, in my bedroom, with my snoring cat pressed up against my leg. I'd like to think that I'm breaking the rules, pulling together my own language within a language, forming myself as a writer. I know I'm not. This is nothing. This is the ever-blinking cursor at the top of the glaringly white page. This is the front inside cover of a novel. No one is captivated by the front inside cover. No one reads the cursor. If I ever make it as a writer, no one will ever remember this –

– just me, and maybe you. But who am I kidding? We don't know each other. This is our only bond, this I-don't-even-know-if-this-is-writing, and it is easily broken.



*Note: Quote is from e. e. cummings's first poem in his Collected Poems, published in 1938.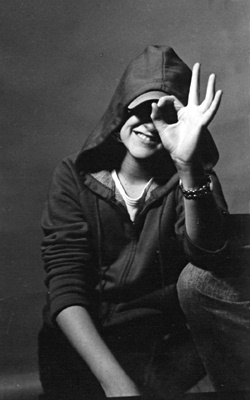 © Tori D., Marblehead, MA