For All the Goodbyes I've Said
June 16, 2012
Remember when we were really good friends?

Because, I don't.

I'm sorry. It's always been such a fatal flaw for me. I usually end up forgetting the friendships I've had if they've been gone for too long. Like, we were close friends, right? We had secrets and jokes and laughed and cried and I think maybe, I wrote something for you a long time ago. I think, maybe I thought, you were just someone who would never fade away.

I remember the first time we met.

I always end up meeting people like you doing things I don't want to do, but it's all right because later, I'd use your memory as a way to justify that particular piece of my life.

We made this stupid promise and I liked you because you were interesting. Good to talk to. And you'd come to be a good friend, too.

And then just like that, it ended.

Well, maybe not "just like that". I've learned over the years that endings, just as well as beginnings, are complicated. And even when you can see them coming a mile away, sometimes you're just too powerless, too stubborn, too scared to stop it.

Yours was a relatively simple ending. I don't remember why or how or the justification I gave to myself, wrapped in coarse, browning paper, but somehow I did it and we ended up where we got.

And I never asked you what you thought of it.

I think that's what I regret most.

You're different than the others I've had to say "farewell" to. For us, it really was drifting apart that doesn't quite make sense when you look back on it. But, it doesn't stop me from missing you. From wondering how you're doing from time to time just because, once upon a time we used to laugh about the same strands of intellect streaming gently in the wind.

Once when you talked to me a couple of years ago, I was shocked and surprised. To think, you still remembered me and thought of me and wanted to talk to me and didn't hate me and, and, and.

I wanted to tell you everything.

I wanted to tell you how I'd changed. What had happened since you'd been gone. What I'd accomplished. How I'd messed up. Everything that was done.

But, then I realized, the most important thing that had come to pass, you already knew. You already knew that we were done. And there were no more words to say.

Later, when you brought up one of our jokes in another context, I was at such a loss for words that I let the friendly salutation fall on deaf ears and be swept underneath the rug. Well, it's been a year since then and since we "talked" (if you could call it that) and yet, I still find myself writing these words to you.

I hope that one day, we can be like those friends that drift apart, but later meet up for coffee in a crowded Starbucks and end up "catching up". I hope that it's not awkward because, if you promise to care, then I promise to show you just how much I've missed you. And then, maybe we'll end up laughing, just like we did all those years ago.

Sometimes, I wonder if you ever think of me.

Not in a very significant way. Just in passing, perhaps. Or maybe, if I pop up with a status update on your newsfeed.

And I wonder if maybe, you have the same thoughts, too.

I miss mostly everyone I've had to say goodbye to.

But, I think, you're probably the only one who'd be willing to say we parted with "au revoir" that day instead of "adieu".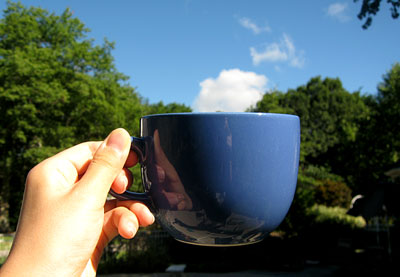 © Chae Lin S., Providence, RI