A Safe Place With Dave
June 11, 2012
I lay awake, alone and afraid. I don't know what I'm afraid of but my hands won't stop quivering. Maybe it's the darkness, or the rain splatters on my window; or could it be that my body temperature was slowly decreasing to 95.6 degrees. A tear full of pain slowly leaked onto my cheek, I didn't know where to go to feel safe, and comforted. To be warm and loved, that was really all I ever wanted.

My insecurities soon got the best of me. I was afraid all the time, and mostly of myself. After two years of chaos, my weight had dropped to 94 pounds of skin and bones. Anorexia had paralyzed my mind; in my head I believed I wasn't sick at all. After those two years of twisted thinking I looked in the mirror one day and saw how much pain I was in. I finally realized how sick I was. I knew it was time for me to get the help I needed. My doctor sent me down to Seattle Children's Hospital for and eating disorders program and while in the hospital I slowly began to regain the strength I had lost both physically and mentally. After five weeks away from home and all outside contact the doctors knew I would be able to fight this disease that had taken control over me. As afraid as I was to go home, back to the dark cold room of mine, I knew it had to happen someday. Who would I be without the ability to face my fears anyways?

I adapted pretty well during the transition from the hospital to my home, but I still felt the same fear I had felt before I left. As my birthday approached I had faith that that day was going to be my turn around point. I had invited all of my past coworkers over for a little get together and I had spent the entire morning taping birthday signs, streamers, and balloons all over the house. As the clock struck four, I knew something was wrong. I called up my coworker to see where everyone was. After her reply I sat there in shock. Once the phone hung up, pain swelled into my eyes and streamed reluctantly down my face like a river of sorrow. I wasn't even good enough to have a few friends show up for my birthday -I had lost hope.

The day rolled along whether I wanted it to or not and soon it came time for me to blow out the eighteen candles that mounted the stand of cupcakes before me. The candles stood there to remind me of each pain filled year, but now there was one more added. I was sick of feeling this way.

"Happy birthday to you, happy birthday too you! HAPPY BIRTHDAY!!!! Happy birthday to YOUUU!" sang my mom and my brother, trying to squeeze a smile out of my saddened face. My eyes shut tightly, and I thought of the one thing that would make my life worth the fight.

Five days went by and I was sure my wish wasn't heard, but on the sixth day I got an email back from a young man about my age. Back in October I had emailed him, telling him a bit about myself. His message gave me a feeling of hope. He was my ticket out of this bad life and I was going to take it no matter the cost.

"Wow you are gorgeous! You seem like a very cool person I'd love to meet you."

Excitement filled my heart, "Thanks! You're not to bad yourself. Do you have facebook or msn? I'd like to get to know you a little more."

Once I finally got my moms approval to meet up with Dave, he drove to my house to meet my family and well -me. As he walked through the door and looked into my eyes, my knees grew weak, but when he looked at me I felt confident and beautiful.

I've always been the type of person to doubt myself and stay quiet in a room, but with Dave I felt like I could talk fearlessly to him for hours. I knew right away he was the one that God had been holding on to all of these years for me.

Our first date was bit like a movie. We went bowling and after we beat each other once he took me out to one of his favorite locations in Bellingham, Washington. The night sky seemed to glisten off of the bay, like glitter sprawled out on to the water. As he looked into my eyes I realized I no longer felt alone. I didn't feel afraid, or cold, I was finally okay.

I still can't stop thinking of the past few months. Even though things are much better now all of the pain, heart ache, and loneliness, still seem to linger in my heart when my safety net leaves in the morning.

After my hospitalization my weight returned to a much better state and the strength in my arms increased dramatically. I am slowly learning to accept myself and realize that it's okay if I'm not perfect. All of this pain inside of me had developed over time as I tried to become someone I wasn't, but with the help of my relationship with Dave and being at the hospital I have learned that it's okay to be who I am.
The relationship I have and am still developing with Dave is strong. I know it's going to last, and the way I know that is the way I feel when we are together. There is no doubt in my mind I am going to grow old with this man. He makes me feel safe, and I can trust him to keep me safe. This dream come true has helped me tremendously throughout my recovery and I know I will no longer lay awake at night cold, for he lies beside me, warming my body with his skin every night. I will no longer be afraid, for he will fight anyone who threatens me, and I will never again feel alone. For his love will always remain in my heart. He is the place that I feel safe.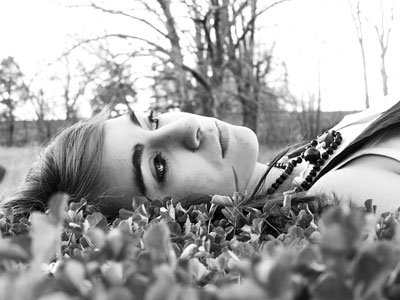 © Jasmine R., Bourbon, MI