Saying Good-bye to Sammy
June 7, 2012
I often volunteer at a local nursing home on Mondays. Sometimes I help throw holiday celebrations and other times I just talk with the residents and help the activities coordinator. I especially love to bring in my baby goats to show to my elderly friends. Some people think that it is weird that I like to spend time with people who are five times my age, but I absolutely love visiting those people. Bill, Ruth, Josephine, Betty, Liz, Dorothy—they all hold so much wisdom in their frail bodies. They all love to listen as I tell them about my goats and then they have hundreds of stories about "the good ol' days," which they love to tell over and over again. They are lonely; they are tired; they are sick; they are senile; but they are human. And I love them.

Over the Christmas holidays, I grew very close to one particular lady, whose nickname was Sammy. Sammy could still talk pretty well and she cruised everywhere in her blue, rickety wheelchair. While I was decorating for Christmas, Sammy would wait in the hall, ready to exchange a smile with me and then she would casually follow me around, nodding and commenting as I carefully placed every Santa Claus and Christmas tree. Sammy laughed when I tripped over Christmas lights. She grinned infectiously as I struggled to place the star on top of a very tall tree. And she solemnly gave her approval as I entwined long strings of greenery along the walls. She even watched with great attention as I placed pinecones and cardinals throughout the wreaths. Sammy was my friend and I loved watching her reactions to each new decoration. Her face fairly glowed with excitement when I plugged in a small, purple Christmas tree. I thought it was the ugliest thing I had ever seen, but Sammy loved to watch the fluorescent lights blink on and off. Her simple fascination with a pathetic tree made me feel sad inside. Sammy had so little, but she found the joy in the most unassuming objects in the nursing home. She would pour over letters from home, hanging on each precious picture or note from her family. Unfortunately, Sammy didn't have too many close friends with the other residents—she could be a bit ornery. But that didn't limit our friendship at all.

Whenever I left the home, Sammy would wheel herself to the door to smile wistfully as I walked out to my car, used my own keys to drive to the store, and then drove home. She could only imagine what it felt like to have my own keys and my own car. And my own home. Sammy could only vaguely remember what it felt like to have a life, beyond the padded prison of the nursing home. And she could only sit in the old building, gazing out into my world and wishing with all her heart to be me.

Recently, I have been too busy to go to the home, although I had been planning on taking a goat in on Monday. Today, I received the horrid news that Sammy had passed away in her sleep. It was a direct blow to my heart. Sammy was my friend. No, she could never remember my name. No, she didn't remember most of the things I told her. No, she didn't understand all of the technology of my generation. But she was my friend. She was Sammy.

Now that Sammy is gone, I remember all of my favorite times with her. I can still see her brilliant smile as I laughingly practiced my ballet in the dining room. She beamed proudly as I executed my movements and then she burst into her trademark giggles as I lost my balance and bumped into the wall. I remember how she would casually follow me around the building, trying not to look to obvious, but never missing a single move I made. I can still see the pure joy on her face as she gazed at that purple, flashing Christmas tree. And in my sad heart, I can recall the dejected gloom that settled on Sammy's countenance as I said my good-byes and walked out the door.

Oh, the pain of saying "Good-bye!" The intense regret that I have not taken the time to visit my friends. The bittersweet knowledge that Sammy is no longer stuck in her padded prison. I know that it will be hard to go back next week. To know that Sammy will not be there—it hurts me heart to think about that. To know that I will walk the halls alone and to know that I will pass by her pink, lavender-scented room. But the hardest obstacle that I have to face cuts my heart again and again. For I know that it is time to say "Good-bye" to Sammy.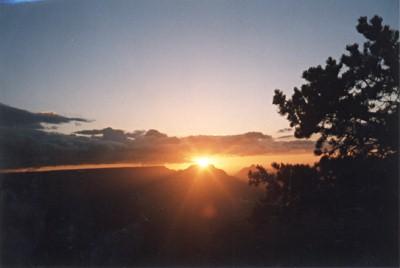 © Amanda T., Scituate, MA