How Meg Cabot helped me survive middle school
June 4, 2012
6th grade was an awkward time for me. It was the time when I outgrew the beautiful pink bubble of 'ew boys are gross, lets eat candy' and entered the real world, where guys were more than just dirty little bugs with disturbing health problems. Suddenly, my mommy didn't want me to play with them too often, they were forbidden territory. It was exciting and frustrating, this strange desire to be with them, yet not knowing what to do. I wanted to impress them with my subtle charm and suave manners but lost the ability to form a coherent sentence in required situations.

The full force of my undying affection was directed towards one boy in particular, with bright red lips and long curly hair. I wrote stories about him, where his hand would 'accidentally' brush my thigh and we would fall in love or how he saves me from the ghost on the fourth floor of our school (I swear it was there). I even dedicated him a mini shrine, hidden in my desk, with a lock of his hair and a water bottle I stole during football practice. I also made a video of him during the summer camp at our school, and customized it to attach my clips in between. I stalked him all the time and made notes about all his activities so much so that it turned into a hobby.

I was so sure that we were meant to be except one fine day, he asked out my best friend who also happened to be his neighbor and just like that, they were a happy couple and walked home hand in hand.

My very first heartbreak. For days, I was just a heap of confusion and tears. I had been hurt and betrayed. How many girls would make a diary about him? HOW MANY? NONE EXCEPT ME.

While I was still dealing with my broken heart, dad decided to take us out on a 4 day trip to a nearby city, letting me miss an ENTIRE torturous week of school. It was during this period of introspection and recovery, that I discovered my first book by Meg Cabot. It was the seventh one in the Princess Diaries series, in which Michael leaves Mia to go to Japan and become a robot making multimillionaire. I still remember the beautiful moment, when I pulled out the shiny pink book with two figures kissing on the front from the shelf and placed it on the counter. For the rest of the trip, I had my nose buried in the book, reading MY emotions off a book written by SOMEONE ELSE, who understood me so well that it brought tears to my eyes. I did not feel so alone anymore. In fact, now my crush seemed silly in comparison to Michael, who was so much more intelligent and sensitive (and his neck smelled nice too).

My newfound world of teenage princesses and hot geeks was a respite from the boring everyday life that lacked all that I read and loved so much. I tackled every difficult situation with a 'what would have Mia done right now?' and forgave myself for being awkward and clumsy because for once in my life, I realized that it was OK to be a klutz and end up embarrassing yourself.

Eventually, I moved on to the Mediator series with a gorgeous Spanish ghost and a kickass ghost hunter – Suze. She was brave and always stood up for herself, be it an annoying teacher or a 1000 year old vampire. She taught me to be comfortable in my own skin and ignore the haters or better yet, punch them in the face. The Missing series was a feast, with its badass protagonist Jessica, who developed the ability to locate missing children after an incident in which she was struck by lightening. Jess is a fighter in the true sense; she does not take s*** from ANYONE. I have been a victim to street harassment so many times, yet I was always too scared or baffled to shout back at the assholes. So this one time when a guy dared to stop his car beside me and mutter something cheap, I channeled my inner Jess and spat back at him with a series of colorful words along the lines of "F*** YOU LOSER". He was dumbfounded and drove away quickly, trying to save his face as I like to think.

Meg Cabot is a divine creator who gave birth to such perfect yet believable characters; you want to be best friends with them and take advice about homework, school, BOYZ and what not. She hated high school too and never had any kids and we have our birthday on the same day! She's the voice inside my head that tells me to be sexy and keep going, always.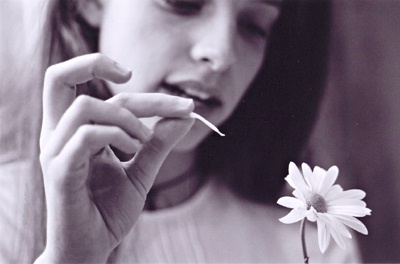 © Emily B., Houston, TX