My Sweet Sixteen Birthday
June 3, 2012
The ground was rumbling as I pulled onto the expressway. Outside, the ground was cold and pale as the sun came beating down upon it. The tires were turning at 70 mph as I merged over into the lane beside me. I was sweating because of the tension of driving and because of the fact that my mother had the heat on high. I had to open my window and when I did, I could feel the nice, nature, air blow against my face. I could smell the trees and flowers mixed with gas and oil from other cars. When driving my mom would be so antsy and yell at me for something. She'd always ask me if there were any cars around me. I'd always answer nicely but she'd still move on to another question. It was a long car ride, but I got through it and so did she.

My mother and I were on Spring Break and we decided to go down state to see my mom's side of the family. We were on our way to Detroit, Michigan to celebrate my 16th birthday. We went from Traverse City to Detroit in a minimum of three hours. I only got to drive for a maximum of one hour because of the traffic issues but I still got the experience that I needed. When we arrived, a lot of memories came flowing back to me. Two years ago, I lived there with my grandma for about two to three months. I remembered so much.

We were in Detroit for three days. The first day we spent with my Aunt Jackie and her three year old son, Nicholas. She gave me a huge hug and said, "Happy Sixteenth Birthday Beautiful!" I got to play with my cousin, Nicholas as he was screaming through the house, "WOAH WOAH WOAH WOAH!" at my 18 year old cousin. Nicky had gotten bigger from the last time I saw him, which two years ago. That day, he wore jeans with a red jacket. He looked so cute as he was running around. Soon after that, it became dark. We headed out and made our way to Grandma's house, where we were going to be staying for these three days. When we got there, we got our things inside and ate dinner. We then fell asleep after a long day.

The next day, we went to Jerbrolters. Jerbrolters is a huge building where people can rent a space inside or outside to set up some things to sell. It was a building with cement flooring with yellow tape to divide the spaces. It looked like a huge garage without the clutter or things up on the ceiling. My grandpa worked there, so we went to visit. We not only spent time with my grandpa, but we also got to walk around and look at a few things. After that, my grandma, my 17 year old cousin, and his girlfriend took me to big boys as my mother, Aunt Jackie, my grandpa, Nicky, My 18 year old cousin, and a few other little kids that I didn't know, helped set up a birthday party for me. When I walked in, I wasn't surprised much. I knew it was coming. When I saw my huge cake, I could only imagine where that was going to end up.

After the party, we loaded up all my gifts and went back to Grandma's house. We ate dinner and I played video games with my cousins girlfriend. When we got bored of that, I got to drive around town. It was about midnight to one am and we all felt like getting out of the house. So I got to drive again. We didn't go very far from the house, but we did go to meijers and we did go in and walk around. It was a fun night. We all fell asleep around three.

The last day, my mother and I went to go visit with my Uncle Jeffrey and Aunt Sylvia and their son Steven. We talked about life and we planned for the 4th of July. Sylvia said, "I can't wait to see you all again". We didn't stay for very long because we were on a time schedule. So, we left early and my mother and I went shopping. I don't usually go shopping but it was a mini tradition of ours. We went to Forman Mills, my favorite store in Detroit. After shopping, we went back to Grandma's to pack up and say our last good byes. I wish I could have spent more time with them. I miss them all and wish they lived closer so I could see them more often. I thought about them the entire way home. Even when I was driving. This trip made me realize how much I really missed and love my family. I thought that trip was refreshing and I hoped we could do it again sometime very soon.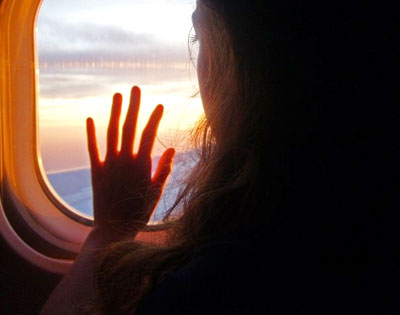 © Megan C., Nashville, TN