Friends
May 31, 2012
Friends. There are a lot of things to say about our friends, right? Everyone has friends, from the start of kindergarten to the end of our working lives. Right? For a lot of people, friendship is the start of something. For example, for some people, their current enemy was once their friend, but he or she changed, or even became a backstabber. For others, a friendship was the initial step of knowing the person who is their true love, and now they're lovers and best friends. And for others, a childhood friend became their life-long soul-sibling. But for me, only two things related to friendship have happened to me.
First, my boyfriend and I, whom have been together for a year, started out as Facebook friends after realizing we had several mutual friends we hanged out with from the same area. Afterwards, we met when hanging out with some of those mutual friends and eventually started going out for the summer, and before the beginning of the school year, we were officially boyfriend-girlfriend. As well as with him, all my previous silly middle school and early high school relationships, which were all short-term, had started as a friendship. But I don't want to go into detail about those mistakes I learned from.
Second, I have lost every single one of my friends; from my pre-kindergarten friends to my high school friends. And I'm still in high school. Since I have been in 3 schools in 13 years, including 2 schools just for my elementary years, I lost all my elementary school friends by not keeping in-touch with them, or because as they neared adolescence, they changed dramatically and I wasn't "their type" anymore. Thanks to that, I have always believed school friends, especially those made before high school, are never forever. During my last year of middle school, I had a few high school friends that eventually graduated and went off to college. I still kept contact with them via Facebook and text messages, but I guess they eventually got tired of my young self and started spending more time with—and talking more to—their new college friends. During the summer of 2011, the summer before I started my sophomore year, which was when I started dating my boyfriend, I talked most to and hung out with my two best friends, whose names I will not mention, but will call them Thing A and Thing L, A and L being the first letters of their names. I was having a pretty good summer compared to my previous one. But, during summer, Thing A and Thing L started talking more over the phone and hanging out more together without me. It did hurt a little, but I tried to shake it off and act like everything was fine. For my birthday party in mid-summer, "Sweet 15" (since I'm Latin and celebrate Sweet 15 instead of Sweet 16) they spent the day at Thing A's house to get ready, and arrived at my party together. I had a few 3 or 4 other friends from another school that were a little shy and didn't talk to Thing A and Thing L at the party, plus my family, so I tried to spend some time with everyone, separately. Anyways, the party is really not that relevant for what happened with them, I think.
Since the start of our sophomore year in the second week of August, we started to drift apart. First, we had a lot of silly fights with Thing L, because, due to home problems and little sleep, she came to school in not the greatest of moods, and sometimes took it out on us. They talked all the time on the phone, together, without me, and we stopped going out as well. Thing A mostly contacted me via text, and not that much, and at school, we started to drift away. By November, I was starting to dislike being near them, especially near Thing A, whom had been my best friend for over two years. After November, they started forming their own separate group of friends, pretty much leaving me out, and during Christmas break, neither really contacted me, except Thing A during Christmas Day to wish me a Merry Christmas and such for a few minutes.
After the second semester started, everything went downhill. Since early December up to late March/early April, I spent a great deal of my time really depressed, and even had some troubles with my boyfriend. It kinda hurt me how they barely even talked to me during this time, but I guess it wasn't their fault that they didn't know my emotions, since I tend to hide my feelings and even push people away. By late March, I was begging my mom to let me switch schools for my remaining junior and senior years. When I told mom how I felt Thing A and Thing L had been ignoring me all semester, she and one of my favorite teachers tried to convince me to talk to them, especially Thing A. I tried, but I felt ignored, and she only talked to me if I talked to her. I decided I didn't want to be a nuisance nor a stalker, so I stopped trying. On the third Friday of May, I finished school. A week later, on the last Friday of May, I had to go back to school to get my grades. I spent an hour in the same room as Thing A, Thing L, Thing A's cousin, and three of their current closest friends, including two boys. And they didn't even talk to me. I spent the whole hour in a corner talking to my favorite teacher.
When Thing A was going to leave, she said goodbye to everyone, and, probably so she wouldn't seem rude, said bye to me last. Aside from Thing A and Thing L, I have lost all my friends. I've lost all my internet friends, all my school friends. Some were lost because we just stopped talking, others because they or I changed, and some over silly fights. In a way, I don't care. After all, I'm in school to study, not to make friends, and most adults don't keep their pre-college friends, but I'd still like to have at least 2 friends/best friends, y'know? The only best friend I have right now is my boyfriend.
Back when I used to fight a lot with mom 1-2 years ago, I used to believe I could always have friends, and that I didn't need to be mom's friend. Now, I'm really close to my family, especially mom, and I realize how wrong and naïve I was. Friends aren't forever, but your family will always be there, no matter what.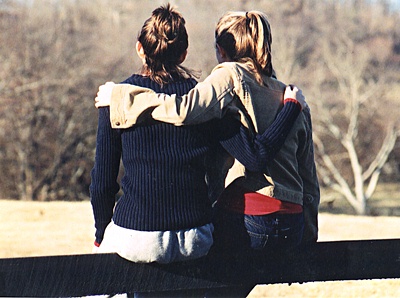 © Jaime M., Wichita Falls, TX