Albert and I
May 28, 2012
As I was sitting in my car eleven years ago, a late summer''s breeze blew through the open car door and grazed upon my skin. The thought of this being the the last time I would ever leave this house was dwelling inside me. We were moving to what would become the place I would grow up in. The feeling of sadness and excitement filled me with restlessness. While one little creature seemed to settle these feelings. At that moment I believed this creature to be an ant that rested on my leg. For I only knew two creatures that were the size of my fingernail: ants and bubble-bees. "It likes me!" I yelped to my sister sitting next to me. She didn't feel nearly as pleased as I had been, I could tell by her disgusted look. The next words that soon stumbled out of her mouth would introduce me to a species I never knew existed. "it's a tick," she exclaimed. I felt no effect from this revelation of hers. Then I decided at I would keep this aaaa thing called, "a tick." I would be his lovely new friend and he would be mine! I named him Albert for his abnormal liking for my leg. Albert had tiny hairs all over his body. When I petted him he would every so often do a minuscule dance, reminding me of The Wiggles. He possessed a hard shell that felt rough while his skinny little legs tickled my skin.

Mean while, my mom and dad jumped in the car and I heard the engine roar. We stalled in the driveway for such a long time it felt as if we were watching the grass grow. I suppose each one of us tried to suck in all our memories we had lived in our home. Yesterdays memoirs were the freshest in my mind. I had snuck out to to woods in our backyard planting seven apple seeds. It was my own little secret; I didn't want my family to discover my disappointment if the tree didn't grow. Yet my disappointment or satisfaction would never occur because we no longer lived here; This did not occur to my five- year old brain.

Soon we began to drive and said our farewells to our lovely old home. I stared out the window with Albert seated upon my leg. We were off to make memories in a place that would in no time become dear and ordinary to us.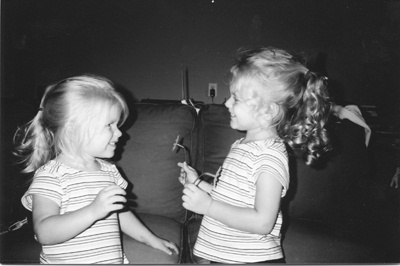 © Elizabeth S., Pompton Plains, NJ