50/50 & Confronting the Inevitable
May 27, 2012
I first came to the realization that I was, indeed, mortal at the unfortunate age of fourteen. No particular incident prompted this revelation; I simply woke up with the knowledge that I would, one day, die. And this, for a time, weighed heavily on my mind.

I became the cliché death-obsessed teenager. Even in happy moments, the knowledge that a cold, inky blackness awaited me hung over my shoulder. The inevitability, uncertainty, and implicit loneliness of death were what disturbed me most. The thought of never feeling or thinking again was horrifying. I was not afraid of pain or suffering, rather I was terrified by the thought of a complete and total nothingness.

I wouldn't say my fear of death was debilitating, but I certainly brooded on the subject too often. The thought of having to leave a world of friends, family, and things was almost too much to bear.

My obsession was ironic in light of my own limited experience with loss; my thoughts on death were all in hypothetical terms, as I had not been forced to truly confront it. I had long been aware of death's powerful hold and influence on human thinking, but I had not actually experienced it.

And then a good friend died. His death triggered something in me. A change. He had been sick for a long time, but I had never once heard him complain. He had been afraid of death too, but he hadn't let his fear stop him from living. I envied him in a way. His composure. His bravery.

Months after his death, I was fortunate enough to come across 50/50: a comedy about cancer. 50/50 tells the story of Adam Lerner, a twenty-something Seattleite diagnosed with spinal cancer; Adam's disease carries a 50% mortality rate. As Adam confronts death, he comes to appreciate his friends and family and their presence in his life; he comes to see the importance of using his time to its fullest.

I found the film comforting, because it was so human. It sounds silly to say that a movie, one two-hour feature, could evoke any serious, life-changing response in me. But, truly, 50/50 affected me in a positive way. I think a change had been in motion in me for a long time, and, perhaps, the film was just enough to cause a "shift" of some kind…

The thought of death is scary, yes, but it cannot be all consuming. After this realization, I came to look at my life's hourglass in a new way. Whereas I had previously been concentrating on the sand trickling from the upper bulb to the lower, I now came to admire its accumulation at the base: considering the warm, vast array of experiences and friends that I've been fortunate enough to acquire over my time in this world.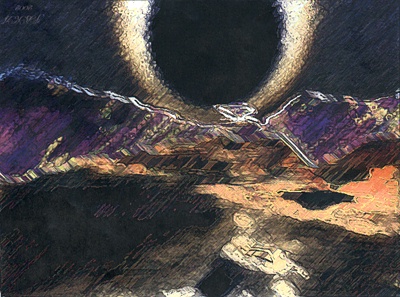 © Jason B., Colorado Springs, CO