My Sixth Grade Talent Show
May 24, 2012
Let me tell you a story.

In sixth grade, my life was terrible. A few girls who claimed to be my friends unexpectedly turned on me. They were ruthless. No one would be my friend. I never did find out what exactly they told people, but it was enough to encourage the entire school to isolate me. I ate my lunch alone, the only person who would talk to me was the janitor, occasionally asking if I was ok. I spent recess in a shaded corner next to a small tree, the perfect place for gossip, but of course, who would do that with me? And I was forced to stay quiet in class, pretending like I didn't hear what they were saying.

But, in the midst of this Hell, I found some rare happiness. My school had a talent show. Since this was elementary school, every auditioning student made the cut. I have no idea how, but with only discouraging faces looking down on me, I auditioned for that show, in front of my crush, I might add. When I got up on that stage and sang "Don't Forget to Remember Me," I finally knew what could make me happy. I probably sounded terrible and looked extremely awkward, but appearances didn't matter while I was up there, all that mattered was that I was actually up there.

As any performer would say, when the day of the show rolled around, my mind was split between nervousness and excitement. Finally, they would see that I had talent, that I was someone worth their time. Finally, I'd stand up to them and they would have to back down and accept me. Finally, the loneliness would end.

I got up extra early to do my hair and make-up. All by myself. My mom let me borrow her long, black skirt that I thought was the most beautiful thing in the world. In fact, on this day, I thought I was the most beautiful thing in the world.

After getting to school, the show started almost right away. Of the many performers, I was one of the first. After a couple other singers and a tap dancer, I was up. I strolled on stage, took the microphone off the stand and started singing along with Carrie Underwood. I sang as loud as my nerves would let me. It was over before I knew it. Not bad at all.

I walked back to class with two girls who were also in the show; they of course didn't acknowledge me. But I didn't care, I felt amazing, defiant even. When we opened the door, our whole class dashed to greet us. I smiled bigger than ever before, said something ridiculous, and watched the entire class rush to praise the other two girls, pushing me aside.

I didn't cry. I stayed strong. I tried to listen to my teacher tell me how good I was. But I didn't hear her.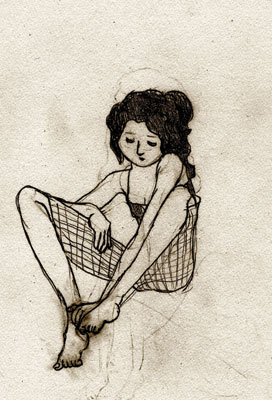 © Samantha W., Albany, NY