Into Eternity
May 23, 2012
I was filled to the brim with overflowing sunlight. A playful, teasing wind caressed my hair as I lay with my cheek against his shoulder, which smelled wonderfully of dust and horse. I had set out early that morning with adventure in mind, and, along the way, I had left the past and present and entered into eternity. I found myself in a peaceful meadow nestled in quiet surrounding hills. The first small, light green shoots of spring were starting to push their way up through unforgiving, sun-baked earth, which, by some miracle, had yielded life. Around me, little caverns were hidden under scrubby bushes, each of them like an open mouth hungry -- hungry for life. Directly in front of me was the largest cavern, its orifice wide and gaping.

Fresh picked, cotton clouds meandered across a splashed blue sky. Engulfing the distant mountains and blurring the outlines of the ridged cacti and the patchy, dark green juniper bushes that dotted the hillside, a bluish haze stretched for miles.

The breeze was pleasant, and most unlike the raging winds that often tore their way across the plains, caught the dust, and thrashed the grasses. No, today was different. Today was serene and calm, and the pressure that comes from purely existing melted away like butter in the hot sun.

In this quiet place, morality was no longer a question; it was simply a reality. The world started to fade away, and, as it did, so did all of my uncertainties. My thinking was gone, and, eventually, my sight was lost, but the last thing my eyes rested upon was the way the sunlight caught his coat and turned it golden over the powerful, rippling muscles that lay beneath. At that moment, I knew that I had left the outside world and gone into a much more vague one, the world within.

My mind was no longer perturbed by the jumble of mundane thoughts that haunted my nightmarish dream life. The daily rush of thoughts was gone, and in its place was an ancient archaic feeling of wholeness.

Then moment was broken. Dale lifted his perfectly formed head, and pricked up his delicate ears as he looked into the distance as if he saw the rapid return of the outside world as it intruded rudely into my inner one. I grudgingly gathered myself, and we galloped back through the gap to the present. While the wind carried us onward, the sun's overflowing light filled me up.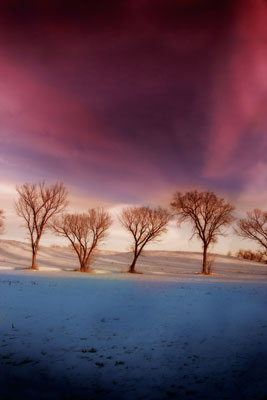 © Elizabeth H., San Bernardino, CA