The Delaware Water Gap
May 11, 2012
From the ages of nine to twelve, my family and I lived in a rural area of western New Jersey. Having come from the Chicago area, this environment was something entirely different than what I was used to, but it was a place which fully suited my interests.

My friends and I could spend hours at a time playing out in the woods behind our houses—we played anything from Indians to the Lord of the Rings. We would come back bearing the pride of more than a few ticks eagerly clinging to our skin. But what is to be expected when you live in the county with the highest rate of Lyme disease in America? Thankfully, this energy-sapping ailment never inflicted me, leaving me free to explore what we thought of as the wild, untapped wilderness behind our houses.

One of my favorite things to do—when I had an itch to get a few more miles away from home—was to go on hiking trips with my father and my brother. We often visited a place called the Delaware Water Gap, a spot nestled in the Appalachian Mountains through which the gushing Delaware wound.

We set out on the seemingly vertical trails, and once deep into the woods, it was as if we were enveloped in an entirely different world. No longer were the sounds of traffic or airplanes audible; instead, we heard only the chirps, buzzing, rustling and breath of the wind and nature.

I can still vividly remember the damp smell of wet, green moss that swallowed the rocks up which my brother and I would so keenly clamber, living out whatever science fiction or militaristic fantasies that may have been floating around in our heads.

Continuing on up the trail, we would reach a point towards the top of the mountain where the damp, moist air was replaced by a veritable breath of God's own lungs. The sunlight cracked through the treetops, warming our skin.

We would stop to take lunch on an outcropping of rocks which overlooked the gurgling, white-capped Delaware below. Cars would pass hundreds of feet below, like little specks of color, barely imperceptible.

My brother and I always ventured out too close to the edge for my father's comfort, but what is living without a healthy amount of danger, and adrenaline to keep you on your toes? At the behest of my father, we retreated from the edge of the rocks and set off down the mountain. Back into the damp, sunless trees we went, feeling the perceptible chill on our skins of the air which was probably 20 degrees cooler than above.

Now, the shiver of the woods is gone. It's been replaced by a sweep of air and the smell and overwhelming colors of fields of wildflowers and now, my memories are what remain.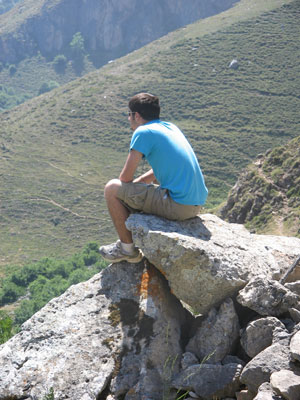 © Bonnie K., San Antonio, TX