Pilot in the Making
May 10, 2012
My papa's favorite stories to tell are of his "war days." But not the average war stories, what he recalls with the most heartiness is something different. He had plenty of the near-death moments of terror, when his mind went blank and he became a scared, pale, 19-year old boy fearing the what-ifs, but those weren't the times he cherished the most. His memory was filled with the usual bitter veteran's memories about the harsh times he endured, but he chooses to tell me about another time. Not a happy time, but not a moment of terror either. A moment filled with indescribable feelings, because it was a moment that he knew would dictate the rest of his life.

It was an average September day in Michigan and the air was filled with swift breezes of chilly air. He sat outside, embracing the scenery. A refreshing landscape of healthy green trees swaying in the wind. It was exactly what he needed to take a break from studying. He thought. He thought about his future. Pondering the decision that had been lingering above his head for months. The war.

More and more of his friends and family were giving their futures to the war. He didn't want to be just another drafted solider, so he pondered. Trying to decide if his brother was right. Just hours earlier he talked to Edwin and he was given the suggestion of enlisting. It seemed like the right thing to do. He wouldn't have to be forced to give up his future, he could decide to. Neither choice seemed appealing but he was glad he had a choice. If he waited and was drafted there was a high chance that he would be drafted to be an infantry solider. Infantry solider he cringed just thinking of the word. In his mind, nothing good could come from being an infantry solider. It was like throwing away all his goals that he had set up for himself since he was a child in the depression. He didn't want to think about it, but he knew he had to make a decision.

Edwin said that he had enlisted himself earlier that week to train to be an aviation cadet. He said it felt good to pick what he was going to do instead of being told. He thought about what it would be like to be an aviation cadet. Flying had always intrigued him and he almost felt a flicker joy for the first time since he began thinking about the war. That flicker of joy was what made him suddenly jump up and sling open the glass door to his home. He had decided. Aviation cadet. It was the best thing to do. It was what he wanted to do.

Scribbling on a wrinkled piece of paper on the kitchen counter he let his mom a note. – Aviation cadet, enlisting in Grand Rapids—
Grand Rapids was about 60 miles away from his home in Lansing but it was the closest place to enlist. Knowing that his future depended on it, five minutes after scrambling around the house and writing the note, he started down the street toward the main road with his thumb out. He walked and waited until someone stopped. They took him closer and he continued his hitch-hiking until he finally arrive at the building where he was to make a decision that would engulf his body and mind for the next five years.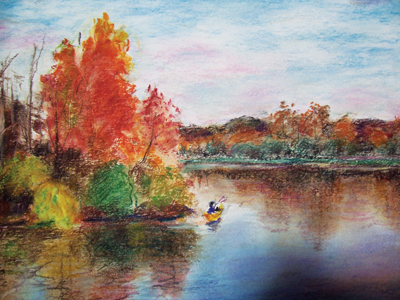 © Xiao H., Naperville, IL